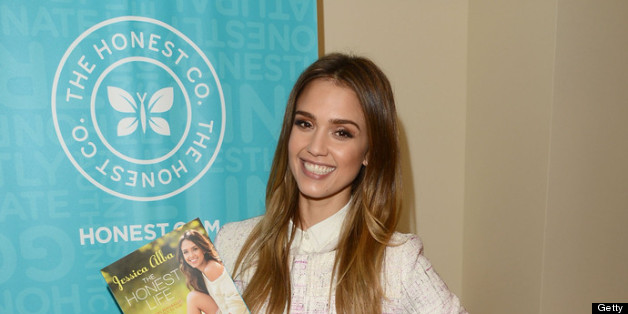 The Honest Toddler is a hilarious Twitter feed turned blog and book franchise created by Bunmi Laditan, a mom of three. It is beloved by parents.
The Honest Company is an eco-friendly baby product brand owned by actress Jessica Alba. Its products consistently receive favorable reviews.
Now, the two popular brands are fighting over a name.
"It started off really fine with pleasantries, and then it was essentially them asking me to cancel my trademark application and that they would help me cancel it," said Laditan, who has previously blogged for The Huffington Post.
Laditan said she was interviewed on The Honest Company blog and had assumed The Honest Toddler and The Honest Company could coexist peacefully. But in the spring, Laditan said she learned The Honest Company was opposing the trademark application she'd filed in September.
Since then, the dispute has escalated publicly. Laditan, who has never used the Honest Toddler platform for anything other than satire, has rallied a community of 150,000 Facebook fans and 250,000 Twitter followers around the cause. The Honest Company has dedicated a website to its side of the story, including the text of a snarky email from Laditan.
Laditan's fellow mom bloggers have taken to weighing in on the situation as well, with some accusing The Honest Company of bullying, and others defending the company's right to protect its business and saying it has been generous with Laditan. Carly Kimmel recently tweeted that the clash was getting flat-out uncomfortable.
Latidan argued that The Honest Company's claim that her trademark would prompt confusion in the marketplace has no merit.
"I don't want to create lotions. That's not what I'm about. I'm a writer. I like writing," she said.
The Honest Company, which began selling products in 2012 after several years of development, owns several trademarks similar to The Honest Toddler, including Honest Baby. The company purchased the domain name honesttoddler.com in March 2012, before Laditan started her popular Twitter feed, but the site wasn't active until after she started tweeting. (That's also where readers can find the company's explanation for its fight with Latidan.) The company insists it's simply protecting its brand.
Laditan's own brand has grown since her Twitter account took off. She published a book, The Honest Toddler: A Child's Guide to Parenting, and she has a potential television series in the works with Darren Star, the producer of "Sex and the City," who optioned the rights to The Honest Toddler in June.
Initially, the company and the mom blogger were in cordial communication and appeared headed to a resolution of sorts, as evidenced by a Facebook promotion they participated in together in April. Laditan said she told the company she was open to signing a non-compete agreement.
But Christopher Gavigan, a co-founder of The Honest Company, told a different story. He said he left a conversation with Laditan thinking that negotiations would continue and that she was willing to withdraw her trademark application and agree to license the name Honest Toddler from The Honest Company. He said she was apologetic about publicizing the dispute on Facebook and Twitter.
Laditan said the proposed licensing agreement isn't an option because, among other things, it only would give her the rights to The Honest Toddler for one year. She said she's also miffed that the company reached out to Darren Star about the dispute.
Gavigan expressed disappointment over the communications breakdown and insisted he'd like to resolve the dispute without going to court. He said his company wants Laditan to succeed and is willing to negotiate on licensing.
"We were willing to give her whatever terms she wanted for free," Gavigan said.
But Gavigan said allowing Laditan to proceed with her trademark application isn't an option for the company. He said it would set a bad precedent and be a poor business decision.
"It's not a battle, it's not a court case, no one is suing anyone. ... We have superior rights in a class that she is filing in," said Gavigan. "If we didn't protect those rights, our rights over time would be diminished."
Gavigan acknowledged that the matter is already being debated in the court of public opinion.
"She's making it bigger. It is not bigger. It's very simple," he said. "Let's have a conversation and come to the table. Let's leave moms and dads to their daily lives, because they have a lot on their plates."
While Laditan has broken her own rules by using an adult voice on the Honest Toddler platform throughout this ordeal, the toddler who inspired the Twitter account did provide a statement of her own:
(That's "ridiculous" in toddler speak).