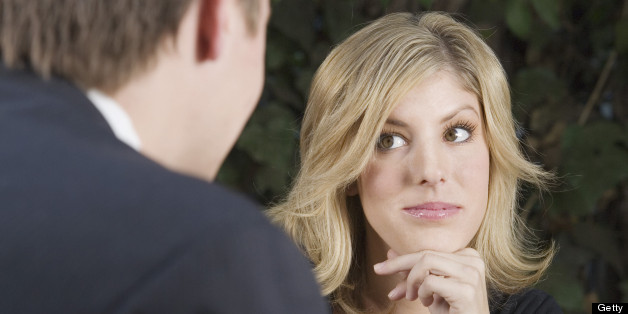 Dating after divorce is tricky. First you have to figure out if you're really ready to get back out there, then you have to find someone you'd actually want to date -- and good luck scheduling that date if you both have kids.
But one of the biggest conundrums for divorced daters, as far as we're concerned, is deciding whether it's worth pursuing someone who's only recently separated from his or her spouse.
That's the exact problem The Frisky writer Abby Cooper grappled with when a date let it slip that he was recently separated -- really recently. He told Cooper that he and his wife had decided to end their marriage the night before the date. Biggest red flag ever, right?
"I also have nothing against a man who is separated or divorced," Cooper wrote. "I would just prefer that said separation or divorce occurred more than 24 hours before our date. Forty-eight is also a little sketchy. Eight thousand, seven hundred and sixty-two would be alright. That is probably closer to the number of hours I would be OK with."
Cooper's example is admittedly an extreme case of jumping back out there way too soon, but it got us wondering how our readers would feel about dating someone who had only recently separated from their spouse.
Click through the slideshow below to see what they had to say, then head to the comments and tell us if you'd keep your distance if a date told you they had just split up with their spouse.
PHOTO GALLERY
Is It A Good Idea To Date A Newly Single Person?
Keep in touch! Check out HuffPost Divorce on Facebook and Twitter.