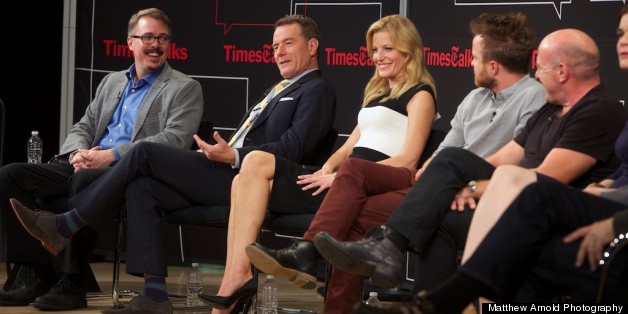 The "Breaking Bad" farewell tour rolled on Tuesday evening, when the cast and creator sat down for a TimesTalks panel discussion moderated by New York Times reporter Dave Itzkoff.
"Breaking Bad" creator Vince Gilligan and stars Bryan Cranston (Walter White), Anna Gunn (Skyler White), Aaron Paul (Jesse Pinkman), Dean Norris (Hank Schrader), Betsy Brandt (Marie Schrader), R.J. Mitte (Walter White, Jr.) and Bob Odenkirk (Saul Goodman) were on hand to talk about their characters' evolutions, their favorite scenes, when they thought they were going to die and to share plenty of funny anecdotes. The whole thing is worth a watch, but read on for some of the highlights from the Times Talk below.
Vince Gilligan is somewhat baffled that viewers are still rooting for Walter White after all the terrible things he's done.
"What I was worried about in the early days was that people would not engage with him, that we wouldn't be able to set the hook, as it were, because he wouldn't be likable enough. Because I knew going into it that this guy is going to be cooking crystal meth. What the hell is worse than that? I mean, it destroys whole communities. There's really not anything good to be said about crystal meth.

So that first season, I really front-loaded it -- gave Bryan an array of economic hardships against him, did everything I could from a writer's perspective ... to make us want to root for this guy. Then, as he got worse and worse, and the character got darker and darker and then made more questionable choices, I thought, "Well, hopefully the hook is set now. People will keep watching even if they don't like him as much, sympathize as much."

Lo and behold ... 54 episodes in, people are still rooting for this guy! And I'm like, "Really? Seriously?" Hey, God bless you. Not me so much ... I mean, I want you to be interested in him, but I would have guessed the character -- nothing to do with Bryan, but everything to do with the choices the character has made -- that at this point that he would lack sympathizabililty. But not so, for a great number of viewers."
When asked if he thinks Walter White deserves to die, Bryan Cranston offered a potentially devastating alternative that has us scared for Skyler, Walter Jr. and baby Holly.
"I think there's a good case for that -- that maybe that's the fitful end. And yet, what if the thing he wanted the most, which was the togetherness of his family, what if he lived and they didn't? Wouldn't that be a worse hell to be in? Or maybe he should die. I vacillate on this."
That "Breaking Bad" meets "Malcolm in the Middle" reunion ending might not be so unrealistic -- it looks like it might happen in the DVD extras.
What about that silly "internet theory" that the end of the show might feature Walter White going into witness protection and getting a new family, thereby making "Breaking Bad" a prequel to "Malcolm in the Middle"?
"That may not be as far fetched as you would imagine," Cranston joked, wagging his finger and raising his eyebrow before quipping, "DVD extras." Which reminded us that Jane Kaczmarek stopped by the "Breaking Bad" set and recorded something for the final season DVD. So maybe there will be a mini-"Malcolm in the Middle" reunion on "Breaking Bad" after all ... in the DVD extras.
The final episodes of "Breaking Bad" premiere Sunday, August 11 at 9 p.m. ET on AMC.
PHOTO GALLERY
'Breaking Bad' Final Episodes Images