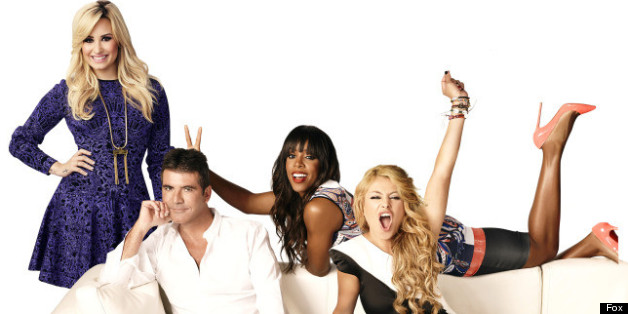 Fox's "The X Factor" will look very different (again) come Season 3, with new judges Kelly Rowland and Paulina Rubio joining Simon Cowell and Demi Lovato on the panel to mentor four groups of hopeful singers.
Cowell is the lone male judge this season after the exit of L.A. Reid, which he jokingly said was "one of those ideas that sounded great on paper," at the show's Television Critics Association Summer 2013 press tour panel on Thursday. He pointed out that the judging switch up makes sense because "it's a girl's world in the music industry right now ... but be careful what you wish for."
During "The Voice's" recent TCA presentation, Adam Levine said that the series' failure to launch a huge star isn't a shortcoming, but Cowell disagreed -- despite "The X Factor's" similar difficulty in producing a US megastar.
"It can't survive. No show can survive without that," he said. "You're making a promise to the contestants that you're going to turn them into a real artist ... Otherwise, it's a game show." He cited British "X Factor's" One Direction as proof that singing competitions can launch real stars.
The show has changed its judging roster every season, and despite the buzz of Britney Spears joining the series in Season 2, it still failed to click with viewers. Cowell joked that he knew he would be rebuilding the show again for Season 3 since "Day 1" of Season 2, admitting that the judging panel is "like having a dinner party -- you invite people for dinner and sometimes it's a fun night and sometimes it's not as much fun as you thought it would be. This is a very fun dinner party ... I felt what we were doing [last season] was similar to what everyone else was doing. I had this impatience to get to Season 3 and what I wanted to do."
Cowell also admitted that this season, he felt it was important to ask the judges "how passionate are you about doing this job properly and working with the artists properly," intimating that Spears might not have been as serious about the judging and mentoring aspects of the role.
The show has never reached the ratings heights of "American Idol" and "The Voice," but Cowell remains optimistic that the series can expand its audience: "I'd love to be No. 1 -- if you've got a good panel and good producers, the format's more fun, and then you get one or two special contestants, it changes everything,"
A critic asked if "X Factor" failed to progress past Season 3, would Cowell return to the judging panel at "Idol"? "I can't imagine either scenario," Cowell said with a laugh. "Somebody very well known once told me, 'Know when to leave the fair' ... I believe that if you make great TV shows, people will watch them. I feel really comfortable with the girls. I think this will be the best the show has been so far. I'm feeling very confident."
Among the changes this season: The prize money has been reduced from $5 million to $1 million plus a recording contract with Sony, and the four categories of contestants have reverted back to Boys, Girls, Over 25s and Groups.
"The idea was to raise attention ... It was almost too much," Cowell said of the $5 million prize. "We want artists who really want to be artists. The prize is $1 million -- they still get a recording contract with Sony and become a top priority there."
"The X Factor" returns for Season 3 on Wednesday, Sept. 11 at 8 p.m. ET on Fox.
PHOTO GALLERY
The X Factor