When New York City photographer Brandon Stanton met 6-year-old Rumi and his mother, he decided to take their picture and put it up on his website. In the process, he made Rumi's cowboy dreams come true.
Stanton is in the middle of creating an ambitious photographic census of New York City, called Humans of New York (HONY). His goal is to capture New Yorkers experiencing everyday life in their city.
On Tuesday, he found Rumi and his mother in Washington Square Park selling cowboy supplies. "We're saving up to buy a horse," they told him.
(Story Continues Below)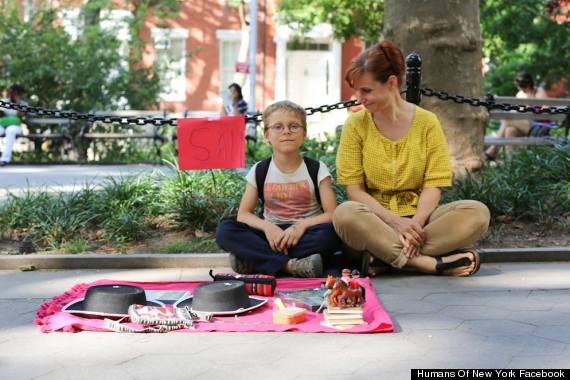 But after a full afternoon of selling cowboy hats and trinkets, Rumi only earned $1. So Stanton set up a plan to send the 6-year-old on a 'Wild West Adventure.'
"With the size of the HONY audience, it'd be quite a simple thing to do," Stanton wrote on the HONY Facebook page on Wednesday. He set the fundraising goal to $7000, threw in $300 to get started, and began an online donation page.
Then the goal was met.
"Entire amount was raised," Stanton wrote Wednesday night. "Enough to mist the eys of even the most trail-hardened cowboys. Thanks, everyone."
By Friday morning, Stanton's original post had received more than 45,000 likes and 6,000 shares. The fundraising page has earned more than $32,000 in donations.
Donations came in all forms.
"I just got a job today," Facebook commenter Erin O'Brien wrote. "And I'm donating half of my first paycheck to this little fella."
Another commenter, Denise Berry-Hanna, offered Rumi riding lessons for a week at her equestrian center in Illinois.
But the good news didn't stop there. On Friday afternoon, Stanton posted to Facebook that after processing fees and expenses for Rumi's trip, more than $20,000 is left to donate to the New York Therapeutic Riding Center. The organization helps provide horse rides to children with disabilities.
"Rumi's parents are SO emotional, thankful, and excited about the trip," Stanton wrote. "But, as I'm sure you'll all agree, we think it's important that Rumi enjoy this as a child-- and not as a celebrity. So if you pass by this wonderful family on the street, try to restrict yourself to a subtle wink or a nod."
BEFORE YOU GO
PHOTO GALLERY
Random Acts Of Kindness