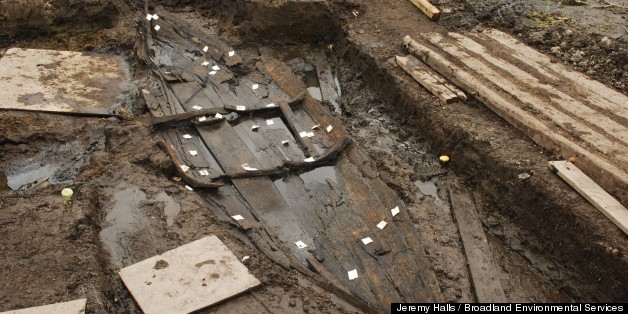 Archaeologists discovered what may be the remains of a medieval boat that's possibly hundreds of years old during construction on a drainage project along the River Chet near Loddon, England.
The oaken vessel was found in a marshy area of the waterway network known as the Norfolk Broads during work on a flood defense project in the region. It is apparently well preserved and is believed to be around 600 years old, according to multiple reports on the find.
Made from wooden timbers, iron and copper alloy nails, the boat appeared to have been waterproofed using animal hair and tar.
"This is an extremely rare and important find," site archaeologist Heather Wallis told local news outlet Beccles and Bungay Journal. "No boats of this date have previously been found in Norfolk so this has been a unique opportunity to record and recover a vessel of this date and type."
The boat was probably used to ferry goods back and forth to markets along the rivers, lakes and canals of the Broads.
"This area has had a strong reliance on water transport and related industries, particularly since the creation of the Broads by peat digging in the medieval period," Wallis said, according to the Eastern Daily Press. "We cannot be entirely sure how the boat was propelled, but it is likely to have been sailed and/or rowed or quanted down the river."
The next step for researchers will be to carefully transport and store the boat, until it can be more accurately dated and researched.
BEFORE YOU GO
PHOTO GALLERY
Old Boat Found