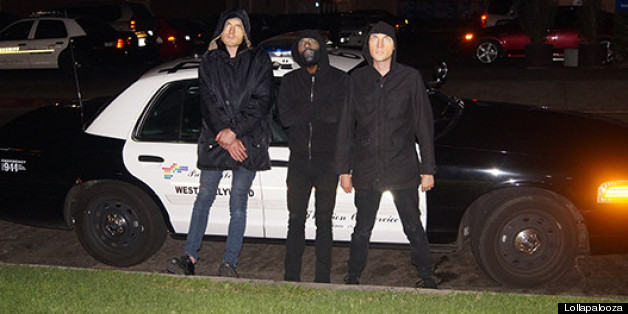 Updated story
The California-based rap-noise duo Death Grips was pulled from Lollapalooza's lineup just hours before they were scheduled to play an evening set at the mega-fest's second day.
The band was a no-show for an official -- and sold-out-- Lolla after party at Chicago's Bottom Lounge Friday night, though festival organizers made no mention of the incident when they confirmed the set cancellation just before noon Saturday:
UPDATE: Death Grips chose not to appear at #lolla. Their headlining set at The Grove Stage will now feature @badthings w/ Shaun White.

— Lollapalooza (@lollapalooza) August 3, 2013
The cancellation was the second for Saturday performer's at Lolla's Grove Stage: In the days leading up to the festival, singer Azealia Banks cancelled her appearance (and subsequent appearance at the Osheaga Festival in Montreal) citing a throat infection.
After the band failed to show at the sold-out after party they were supposed to be headlining, angry fans who had been waiting some three hours for Death Grips' performance destroyed a drum kit belonging to the band that was left on the empty stage. The Sun-Times rounded up several Tweets from eyewitnesses at the event and a Bottom Lounge employee can be seen informing the crowd of the cancellaton below:
"Death Grips decided they're not going to play tonight. They show's been cancelled, you'll get your money back," and employee can be heard telling the audience. "If you're going to blame anybody, blame Death Grips."
According to Pitchfork citing multiple posts from Reddit, before the band's no-show was announced, the stage setup featured a backdrop that showed a Gmail screenshot of a suicide note allegedly written by a Death Grips fan.
The Tribune notes the band has pulled the vanishing act before, just last year cancelling a 30-date concert tour to work on their next album. There's no word if the band will be at their scheduled Sunday at Osheaga, where several other Lolla headliners like The Cure and Mumford & Sons are slated to play.
The Reader's Leor Galil suspected the entire ordeal may have been a publicity stunt on the band's behalf, and new reports from DNAinfo Chicago seem to back that up.
The band's management reportedly told Bottom Lounge Death Grips were on their way to the show, only to later say the stage set up and the Death Grips album being played in the background "was the show.'"
Erin O'Neal, marketing director for Bottom Lounge told DNAinfo, "It appears to us that despite having a signed contract, they never intended on performing last night and instead wanted to leave a room of disappointed fans."
BEFORE YOU GO
PHOTO GALLERY
Must-See Sets Of Lollapalooza 2013