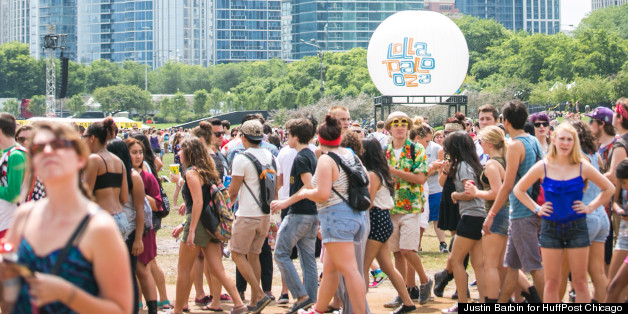 Lollapalooza 2013 kicked off Friday afternoon in Chicago with only brief rain, hordes of bare bodies and music that ranged from tremendous to truly awful -- in other words, it was a pretty typical Day 1.
Story continues below
PHOTO GALLERY
Lollapalooza 2013 Friday Highlights
The (presumably ticketed) fest-goers who arrived early when gates opened at 11 a.m. were among the first Lolla fans to check out the damn-near impenetrable 8-foot steel fence erected to keep jumpers out of the 2013 fanfare.
Early morning rains had made a mess of the field, so officials were spreading mulch around the soggiest parts of the park and taping off others to avoid and all-out mud mess.
Things proceeded on with relative order until a brief rain shower soaked Grant Park a little after 2 p.m. Despite the downpour, the fields didn't quite devolve into the all-out mudslide like they had in years past. After the 2012 storm evacuation mess, this year Lolla organizers used the festival's official smart phone app to push weather notifications throughout the day -- that is, if you could get cell service in the park.
Though things dried off by the time Chicago's own Smith Westerns were ready to roll, sound setup glitches took a roughly 10 minute bite out of the young band's set. Once the hiccups were sorted out, the Smith Westerns wasted no time cracking out clear, bright guitar notes and melodic indie-pop vocals from the Red Bull Stage. Despite their low-key easy listening vibe, the band sounded even snappier than they did during their Lolla debut two years earlier.
Immediately followed on the Lakeshore Stage Josh Tillman, aka Father John Misty, cracked on the sound bleed from the EDM music blaring from Perry's Stage. Droll yet sincere, Tillman may be one of the few acts who doesn't get invited back for a future show after he dedicated his razor-sharp stage banter to skewering everything that Lollapalooza has come to embody -- including the ridiculous fashion, pricey VIP perks and creator Perry Farrell himself. It would be a shame, though, not to invite an artist of Tillman's talent back; he was easily one of the smartest acts booked this year, and stood out as our favorite of the day.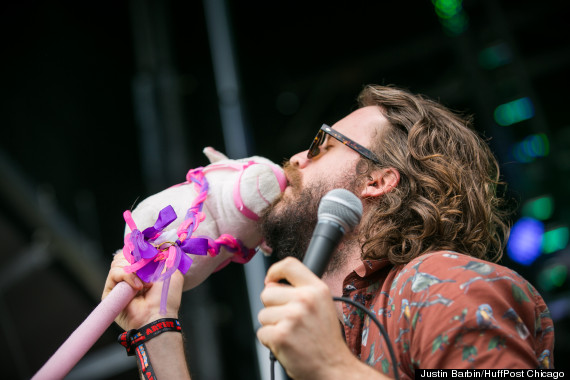 Josh Tillman aka Father John Misty makes a new friend.
In between country-folk-themed rock stompers like "I'm Writing A Novel," "I Love You, Honey Bear" and "Only Son Of The Ladiesman" Tillman sucked face with a unicorn and tossed out gems like:
"I heard a girl here say "I hate the rain." Rain makes civilization possible. Civilization enables groupthink -- and groupthink makes it possible for shitty music to be huge...so I love the rain!"
Later, Tillman mocked the festival's sale of the ultra-luxurious "Platinum" VIP pass, rumored to cost $3,600 for the weekend.
"If you bought a Platinum Pass, that entitles you to a song sung directly to you. You also get to shake hands with Imagine Dragons, and dry-hump Lana Del Ray. I'm really looking forward to you eating sushi of me later."
Despite his obvious contempt for Lolla (in a way making his presence all the more absurd -- or hypocritical), Tillman turned in an excellent show. And with all the sincerity he pours into his songs, he thanked to robust audience that showed up to hear him. "Thanks for coming out to this one, I know you have a lot of options," he said before adding with a playful growl, " "It means you have impeccable taste!"
Even if New Order had been half as impressive in their Red Bull Stage set, they could still pull rank for influencing half of the synth and dance-beat heavy performers at Lolla. Singer Bernard Sumner committed the ultimate performance faux-paus by wearing a shirt with his bands name on it as he performed, but many fans probably didn't care once they heard well-loved hits like "Ceremony" and "Blue Monday" blasting from the stage. Older, slightly slower and missing their original bassist Peter Hook, New Order sounded solid, falling into the lukewarm range of many veteran acts who play Lolla: pleasantly nostalgic, enjoyable but lacking in that X-factor thrill that made them champs in their heyday.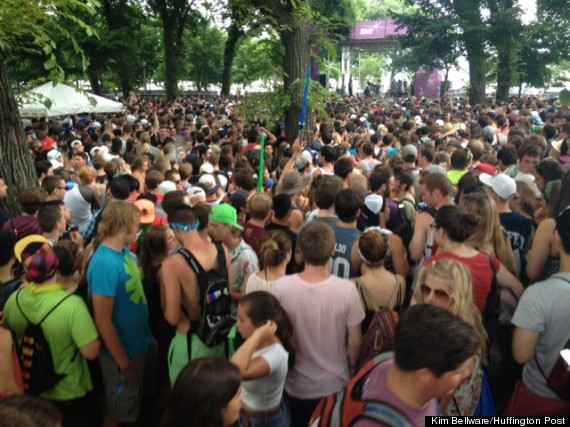 Crowd for Chance the Rapper at the BMI Stage.
In what will go down as one of Lollapalooza's more puzzling programming moves, Chicago's Chance the Rapper was tucked away at BMI -- the smallest stage of the festival. Though logic would suggest a hometown performer whose album has been universally hailed would warrant a bigger stage, Chance and crew made the best of what they had for the 40-minute set. I would have personally liked to have heard more of Chance's songs in full and am probably in the minority among fans at the fest -- everyone went wild for his hyper medley and mashup style that interspersed his songs with popular '90s hip-hop tracks. Hands were in the air nearly the entire set and waved especially hard for "Pusha Man," "Acid Rain" and "Everybody's Someone." The crowd started to depart after an abrupt stop that seemed to signal an early end to Chance's set. Those who left early missed out: Chance started up again, only now he was joined by Twista and Vic Mensa for the excellent "Cocoa Butter Kisses."
Mid-way into the blazing set for Hot Chip, I realize it's a good thing I didn't get there when it started: the British electronic band is simply unstoppable, and I would have been exhausted from from a straight hour of dancing at the end of the day. Like a more spirited and complex version of the stuff that goes on at Perry's Stage, cuts like "Ready For The Floor" were an A+ mix -- enough rock to keep synth from being banal and enough synth to keep rock from being undanceable.
Capping off the end of the day was a very loud Nine Inch Nails. While volume was the first thing that stood out, a mixed reaction from the crowd was second. Trent Reznor and company sounded tight as ever, though looking at the audience revealed a mix of excitement, boredom and was probably a lot of stoned faces. Trent Reznor, massively muscled and sweaty, sounded same as he ever did at NIN's peak, growling through new tracks like "Came Back Haunted" packed against oldies -- including one I left too early to catch: "Closer." Those who ignored the Lolla weather alert and hung out till the very end were rewarded: I hear the band closed out the first day of the fest with the amazing "Hurt," which probably left weary fest-goers elated.
Meanwhile, Joe checked in to some of Jessie Ware's after party action that was -- thankfully -- nothing like the disastrous Death Grips no-show. From HuffPost Chicago Editor Joe Erbentraut:
On the party front, a very chatty Jessie Ware headlined a sold-out official after show at Lincoln Hall +Friday night. Wearing an oversized white jacket over a black leather top, Ware delighted the packed house with an energetic set she admitted was "pretty much identical" to the one she played earlier in the day. "I don't know what you're doing here," she told the fans she recognized from her earlier set.

Playing pretty much the entirety of her debut album, "Devotion," it was clear the British R&B singer-songwriter would have played deep into the night had she had a deeper catalogue at her fingertips. Standout tracks were "If You're Never Gonna Move," "Wildest Moments" and the set-ending "Running." "You've rejuvenated me!" Ware told the crowd, saying she'd felt tired before the gig started.

Pacific Air opened with an overly earnest set that recalled a Passion Pit-esque vibe but fell short of connecting emotionally with the audience.
BEFORE YOU GO
PHOTO GALLERY
Must-See Sets Of Lollapalooza 2013