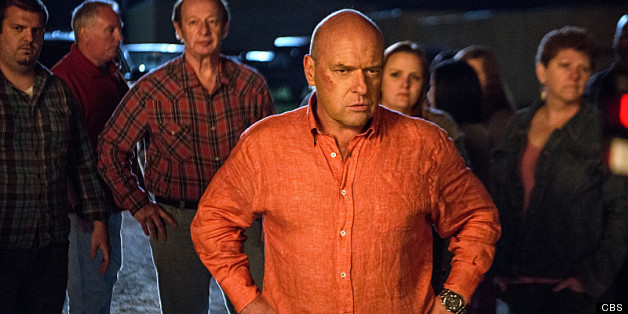 Big Jim Rennie (Dean Norris) probably isn't going to win any father of the year awards on "Under the Dome," but watching his dysfunctional relationship with troubled son Junior (Alexander Koch) has been one of the most compelling aspects of the CBS series so far.
In the August 5 episode, "Imperfect Circles," Big Jim says and does what we've all been wanting to do and puts Junior in his place after the teenager's disturbing treatment of Angie (Britt Robertson) -- but will it teach Junior a lesson, or just worsen his behavior?
Outside the Rennie family, huge developments occur in other areas of the "Dome," according to executive producer Neal Baer, who told HuffPost TV that the episode has key moments that will leave fans buzzing.
"Not only does it grab your heart, but it sets up the path for the future of the show, in a way," Baer said in an interview. "It's a huge turning point for the show, because our kids, who've had the 'pink stars are falling' seizures -- something occurs [with the kids] that changes everything," Baer said.
In a separate story, the characters played by Samantha Mathis, Aisha Hinds and Mackenzie Lintz "go through such emotional turmoil" in the episode, Baer added. "You're going to weep."
In upcoming episodes, new characters played by Mare Winningham and Natalie Zea turn up, and Baer said that those characters "have been hiding for good reason."
Check out our exclusive clip above and then tune in at 10 p.m. ET on Monday, August 5 to see what's ahead for the inhabitants of Chester's Mill.
Read an episode description for "Imperfect Circles" below:
Big Jim takes matters into his own hands when he feels his authority slipping away, and the dome displays its power as a newborn arrives.
PHOTO GALLERY
'Under The Dome': Get To Know The Characters