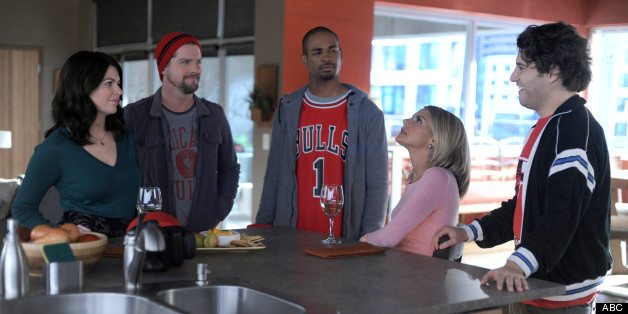 "Happy Endings" is officially canceled, but ABC is still getting heat for it. At his executive session, ABC president Paul Lee discussed the series and the struggles it had on the network.
"Happy Endings" got its highest ratings airing after "Modern Family," and according to Lee, the series couldn't find its "sea legs" away from the popular series. Lee said any show "has to sort of earn its right" to stay after the Emmy-winning comedy and has to "attract an audience on its own," something "Happy Endings" didn't do.
Paul Lee says #HappyEndings was canceled because "it couldn't find its sea legs away from a strong lead in" #TCAs13

— TV Guide Magazine (@TVGuideMagazine) August 4, 2013
"Obviously we were thrilled with #HappyEndings behind #Modern Family but a show has to earn its right to attract audience on its own," Lee

— Danielle Turchiano (@danielletbd) August 4, 2013
Launching the new season in the fall of 2012 in a new timeslot also proved "extremely challenging," Lee said, because of pre-emptions related to the presidential election.
"Happy Endings" ran for three seasons on ABC. The comedy starring Casey Wilson, Eliza Coupe, Elisha Cuthbert, Adam Pally, Zachary Knighton and Damon Wayans Jr. bounced around the network's schedule before landing on Fridays. Once on Friday night, ABC aired a promo asking fans to save the show by watching it in its new timeslot.
There was talk of USA Network saving "Happy Endings" from cancellation, but a deal was never reached and the cast was released from their contracts.
Reporting by Maureen Ryan.
BEFORE YOU GO
PHOTO GALLERY
'Happy Endings' Season 3