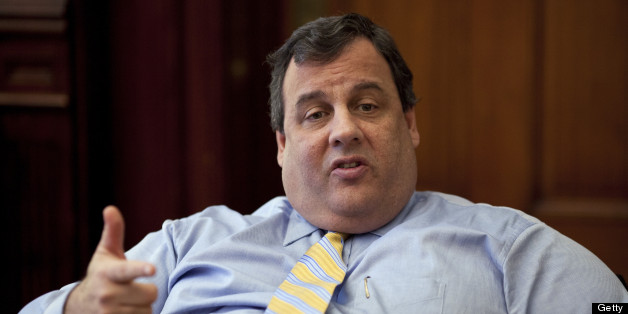 Chris Christie is America's 'hottest' politician. Opinions of San Diego Mayor Bob Filner are increasingly icy. And one GOP pollster says Republicans are warming up to immigration reform. This is HuffPollster for Monday, August 5, 2013.
CHRIS CHRISTIE LEADS ON 'THERMOMETER' POLL, LAGS WITH GOP - HuffPost: "New Jersey Gov. Chris Christie's (R) continuing popularity among independents and Democrats makes him one of the nation's most well-liked politicians, even as he remains far from the first choice of many Republicans, two new polls show. In a survey released Monday by Quinnipiac University, voters were asked to rate political figures on a 1 to 100 temperature scale, indicating how popular each politician is. Christie was rated at 53.1 degrees, the "hottest" of all the people polled. Hillary Clinton, one degree behind, was the only other politician to score above 50....Although Christie scored a healthy 59.8 percent among GOP voters, that figure put him eighth out of twelve Republicans in the poll, behind Rep. Paul Ryan (R-Wis.), Sen. Ted Cruz (R-Texas), Sen. Marco Rubio (R-Fla.), Wisconsin Gov. Scott Walker (R), Sen. Rand Paul (R-Ky.), former Florida Gov. Jeb Bush (R) and former Sen. Rick Santorum (R-Pa.)...A second Monday morning poll from Monmouth University also found that Christie is viewed favorably among all political groups, but generates less excitement among the GOP base than other prominent Republicans." [HuffPost, Monmouth release, Quinnipiac release]
Congressional leaders at the bottom of the pack - In the Quinnipiac survey, the House and Senate's top politicians came in dead last: Nancy Pelosi at 38.4, Mitch McConnell at 37.5, John Boehner at 36.7, and Harry Reid at 33.8. [ibid]
SUPPORT FOR SAN DIEGO MAYOR HITS NEW LOW - SurveyUSA: "Today, just 16% of San Diegans think Filner should remain in office, compared to 77% who say Filner should resign. If Filner does not resign, 68% say the Mayor should be recalled.....Despite the city's disdain for the mayor's sexcapades, San Diegans are divided over whether groping is the most serious problem facing Filner. Also to be considered are allegations that the mayor extracted concessions from developers in return for approving their projects. 44% say sexual harassment is the more serious allegation. 44% say the financial charges are more serious." [SurveyUSA]
Divisions by age, not party - City News Service: "The poll, conducted by SurveyUSA on behalf of U-T San Diego and 10News, found that the parties were nearly even in their desire to see Filner leave: 79 percent of Republicans and 78 percent of Democrats. The widest gap in the findings was between younger and older adults. Of those ages 18-34, 69 percent want Filner to resign. The rate of those supporting resignation steadily increases through age ranges to a high of 86 percent among those 65 years of age and older." [KPBS]
REPUBLICAN POLLSTER: GOP VOTERS BACK IMMIGRATION REFORM - Greg Sargent: "Whit Ayres is a respected veteran Republican pollster who has done extensive research and polling on immigration reform and what GOP primary voters really think of it. He tells me in an interview that much of the conventional wisdom is wrong: Republican voters do support immigration reform — including a path to citizenship — albeit with the proper conditions attached. Indeed they want to see something done. 'Our research has shown that roughly one third of Republican primary voters will never support a path to citizenship no matter what the conditions,' says Ayres, a supporter of reform. 'But two thirds will support a path to citizenship as long as the conditions are strict and rigorous.'" [WaPost]
HUFFPOLLSTER VIA EMAIL! - You can receive this daily update every weekday via email! Just enter your email address in the box on the upper right corner of this page, and click "sign up." That's all there is to it (and you can unsubscribe anytime).
MONDAY'S 'OUTLIERS' - Links to more news at the intersection of polling, politics and political data:
-An Iowa evangelical group plans to step in if the GOP-sponsored straw poll is canceled. [Des Moines Register]
-Nearly three quarter of adults now use social networking sites. [Pew Internet]
-People who regularly attend church are the least likely to smoke. [Gallup]
-A poll sponsored by Washington, D.C. council member Tommy Wells finds narrowly Vincent Gray leading a split field. [WaPost]
-The American Association for Public Opinion Research releases its July journal issue. [Survey Practice]