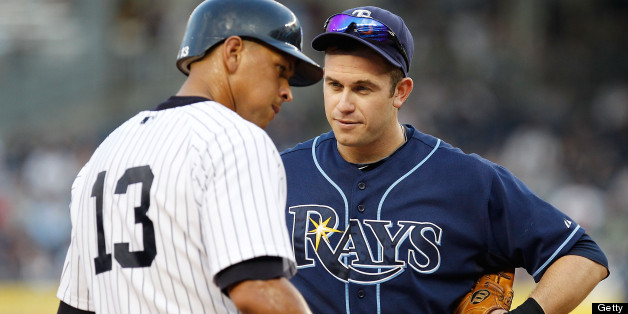 Tampa Bay Rays third baseman Evan Longoria was among several players who shared their reactions to the game's latest performance-enhancing drug scandal. The three-time All-Star acknowledged that the suspensions announced for Alex Rodriguez, Nelson Cruz, Jhonny Peralta and several other players made Monday a dark day in MLB history but expressed hope that they represented a major step toward a cleaner game.
Today is a sad day for MLB,the fans of this great game, and all players who may have been negatively affected by others selfishness...

— Evan Longoria (@Evan3Longoria) August 5, 2013
Ultimately, although today will be a day of infamy for MLB, it is a tremendous step in the right direction for the game we love.

— Evan Longoria (@Evan3Longoria) August 5, 2013
While players like Longoria and MLB officials hoped that the punishment of this group of drug cheats would help baseball improve its reputation, the trespasses of the 13 players named on Monday were more personal to some players. Dan Meyer, who last pitched in the majors in 2010 for the Florida Marlins, showed how high the stakes can be for players who do -- and who do not -- turn to performance-enhancing drugs.
Hey Antonio Bastardo, remember when we competed for a job in 2011. Thx alot. #ahole

— Dan Meyer (@Dmy53) August 5, 2013
From stars like Longoria to players struggling to make a roster like Meyer, the impact of PEDs could be felt throughout the league. Here are some notable reactions from current and former MLB players.
PHOTO GALLERY
MLB Players Respond to Biogenesis Suspensions