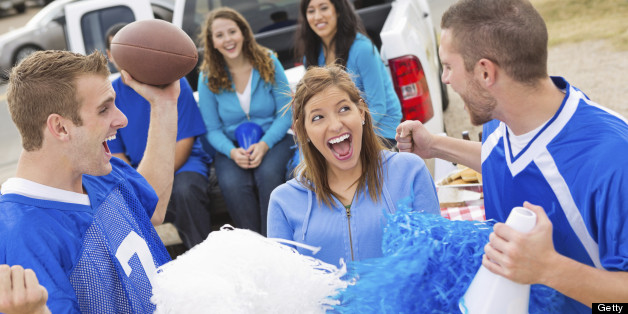 By Alaine Perconti
We're sure by now you are dorm shopping, Facebooking your roommate and counting down the days until you can officially call yourself a collegiette. Move-in day and orientation are just around the corner. Get excited, because you are about to begin what truly will be the best years of your life. To ease your anxiety and get you psyched, here are 20 reasons you will LOVE your freshman year!

1. Theme parties, frat parties, ugly Christmas sweater parties. You name it, there's a way to celebrate it!
2. Can you say I-N-D-E-P-E-N-D-E-N-T? You're on your own, and it feels great. No curfew. No rules.
3. Early move-in –- You'll have a chance to get to know the campus before the upperclassmen get there. This is important so you can feel calm and confident on your first day of classes (and you won't be broadcasting your freshman status by carrying around a campus map).
4. Fall means football and tailgating! Fire up the grills and fill the stands with friends. You'll be automatically bonded to other students by school spirit and the traditions that are unique to your school. Learn new cheers and wear your colors proudly.
5. FREE T-SHIRTS. T-shirt giveaways are a popular way to promote clubs and events. Leave some extra space in your closet because you'll have more T-shirts than you know what to do with.
6. Showing off your new back-to-school wardrobe. If you're still shopping, check out HC's how not to look like a high schooler guide.
7. Taking classes you are ACTUALLY interested in… who knows, maybe you'll learn something! In college, you have a lot more freedom to choose which electives and classes you want to take. Fulfill a science requirement with a fun and interesting class like the physics of music or renewable energy.
8. Starting with clean slate. No one in college will remember how you looked with braces and pigtails in that awkward junior high phase.
9. Greek life! Whether you decide to rush or not, the Greek community hosts tons of fun events to enjoy with your new friends.
10. Decorating your dorm room lets you show off your personal style... and it's way bigger than a locker.
BEFORE YOU GO
PHOTO GALLERY
Best Advice For Teens, According To Redditors