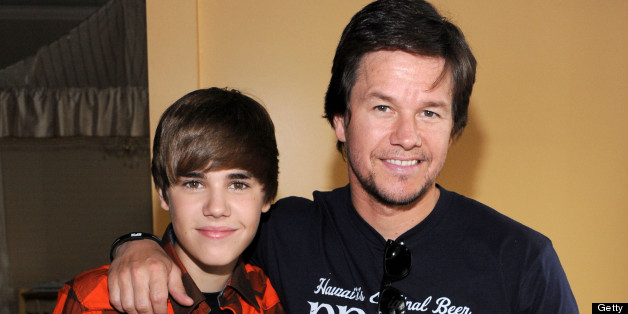 Justin Bieber continues to make headlines with his dramatic behavior. The 19-year-old pop star's latest stunt reportedly involved an altercation at a Southampton nightclub, while past incidents included publicly urinating while cursing a former president, allegedly spitting in a person's face and getting caught with drugs on his tour bus at the Canadian border.
Former wild child Mark Wahlberg has offered his take on Bieber's antics, giving the pop idol some friendly advice.
"Justin, are you listening? Don't be so naughty," Wahlberg reportedly said in an interview with The Sun. "Be a nice boy, pull your trousers up, make your mom proud and stop smoking weed, you little bastard."
"He's a teenager living in a different day and age. I was in prison before I got a record out and I don't think he's been to prison," added Wahlberg, whose teen years were filled with run-ins with police and time spent in jail.
"I did a lot of things that I regretted and I certainly paid for my mistakes," Wahlberg said in a 2006 interview with ABC. "You have to go and ask for forgiveness and it wasn't until I really started doing good and doing right, by other people as well as myself, that I really started to feel that guilt go away. So I don't have a problem going to sleep at night. I feel good when I wake up in the morning."
Wahlberg and Bieber were expected to collaborate on a film in the future. The 42-year-old actor said he wanted to cast the young Biebs in a basketball movie, explaining earlier this year that he has "a great script" and just needs to see "if schedules will allow it." No word from Wahlberg or Bieber if the film is still in the works.

PHOTO GALLERY
Justin Bieber through the years
BEFORE YOU GO