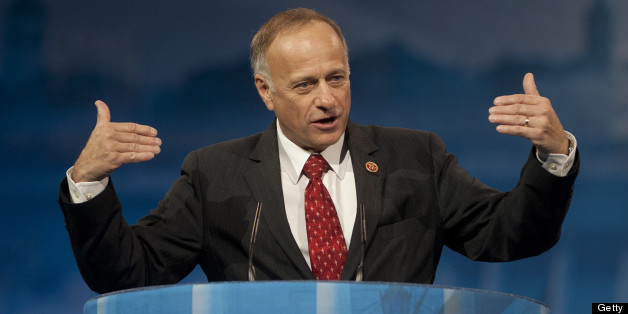 As Republican leaders attempt to distance themselves from Rep. Steve King (R-Iowa) over his controversial statements on immigration, the congressman is planning visits later this month with South Carolina political activists, CNN reported on Tuesday.
The location raised eyebrows because South Carolina is among the first to hold Republican presidential primaries, fueling curiosity about whether King is considering a run for president in 2016. He will attend the closed-door Charleston Meeting and an invitation-only coffee with activists, according to CNN. King's office did not comment.
Click over to CNN for more on the meetings.
King announced earlier this year that he would not run for Senate in Iowa, saying he needed to be involved in "urgent battles" in Congress.
One of those battles was likely over immigration, one of his top issues. He drew particular attention for his statements against immigration reform last month when he decried a plan from fellow Republicans to allow young undocumented immigrants, often called Dreamers, to gain citizenship.
"For everyone who's a valedictorian," King told Newsmax, "there's another 100 out there that weigh 130 pounds and they've got calves the size of cantaloupes because they're hauling 75 pounds of marijuana across the desert. Those people would be legalized with the same act."
His statements were quickly condemned by GOP leaders, who say they hope to pass some type of immigration reform this session.
The conventional wisdom is that Republican opposition to reform -- and rhetoric like King's -- is damaging their brand with Latino voters, a strong majority of whom voted for President Barack Obama in his reelection bid. If King were to run for the Republican nomination, he'd likely face opposition from people who don't want that trend to continue. A recent poll found that even within his own district, many Republican voters disagree with him on immigration.
Although many decried his statement about Dreamers, they also supported his immigration-related efforts in the past. All but six House Republicans voted for an amendment he offered in June that would end Obama policies to prevent deportation of Dreamers and others with strong ties to the United States.
UPDATE: 5:15 p.m. -- Progressive political action committee American Bridge quickly had some fun with the King story by buying steveking2016.com and stevekingforpresident.com. Both sites redirect to their website, called "All Steve King's Men," knocking him for his immigration views.
BEFORE YOU GO
PHOTO GALLERY
Now We Want Immigration Reform!