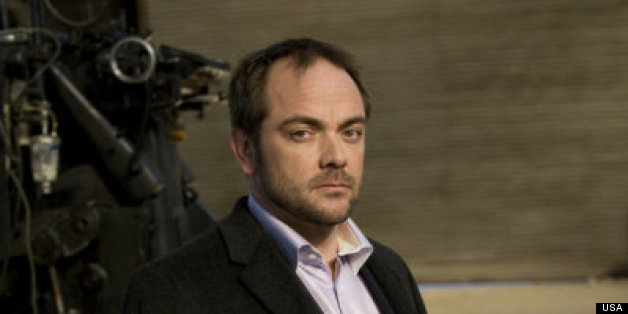 "White Collar" Season 5 is adding a new friendly face. HuffPost TV has learned exclusively that "Supernatural" actor Mark Sheppard will appear in a substantial arc on "White Collar's" upcoming season.
Sheppard will appear in seven of "White Collar's" Season 5 episodes, reprising the role he played in the USA drama's pilot four years ago. In that debut episode, his character, Curtis Hagen, a shady art forger nicknamed "The Dutchman," was apprehended by Peter Burke (Tim DeKay) and sent to prison.
"It's such a gift to be able to revisit a character like Hagen," Sheppard told HuffPost TV. "It's so much fun to come back after four years and stir the pot a little."
"White Collar" Season 5 sees Neal Caffrey (Matt Bomer) strike a deal with Hagen in order to help Peter, who took the fall for the shooting of a senator at the end of Season 4. But the kinds of demands that Hagen makes of Neal could lead Neal back to his old life as a criminal and con man.
Warren Kole plays Neal's new handler when "White Collar" returns, and Richard Thomas and Zachary Booth also appear in the show's fifth season.
"Supernatural" fans may worry that Sheppard's demon character, Crowley, will be missing in action if the actor is working on another show, but never fear -- the CW drama spends "a lot of time" with Crowley, at least in the early part of Season 9.
But, he'll be a different Crowley, Sheppard told fans at Comic-Con in late July. The spell that the King of Hell was under in the "Supernatural" Season 8 finale "has had a profound effect on him whether he likes it or not," Sheppard said.
As if that weren't enough, the actor (whose long and varied resume includes stints on "Doctor Who," "Battlestar Galactica" and "Chuck" in recent years) is set to return to Syfy's "Warehouse 13" as well. HuffPostTV has learned that his character, Benedict Valda, will be in all six episodes of that show's final season, which arrives in June 2014.
"White Collar" Season 5 premieres this fall on USA.
PHOTO GALLERY
Fall TV 2013 In Production