This might be one of the more unusual sports auction items we've come across yet.
In an effort that will raise funds for the Jimmy V Foundation for Cancer Research, Chicago Blackhawks star Andrew Shaw is auctioning off the actual facial stitches he got after taking a puck to his face during Game 6 of this year's Stanley Cup Finals, ESPN Chicago reports.
According to a Facebook page for the effort, the stitches will be up for auction on eBay beginning on Aug. 15 and continuing through Aug. 25. In addition to the (framed) tiny stitches, the winners will also receive Shaw's autograph and "other items." 100 percent of the proceeds benefit the V Foundation, which is named after former basketball coach Jim Valvano.
Here are the stitches in closeup: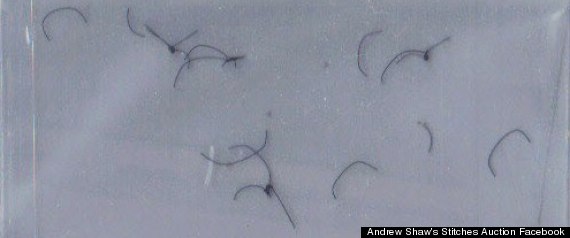 Of course, the Hawks won over the Boston Bruins, so one might even say these stitches contain at least a bit of luck, not to mention some bonus particles of flesh and/or blood. Tiny pieces of Chicago sports history indeed!
BEFORE YOU GO
PHOTO GALLERY
PHOTOS: Stanley Cup Final Game 6