Oprah is giving one diehard fan the chance to walk in her hot red shoes.
The philanthropist and media mogul is auctioning off an autographed pair of size 10.5 Christian Louboutins to raise money for St. Jude Children's Research Hospital, which treats and researches terminal diseases affecting children.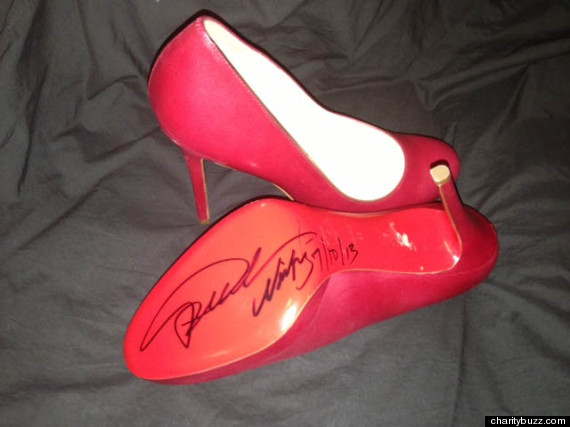 While Oprah always seems to be looking for ways to give back, this particular act of kindness found her … on Twitter.
As Philadelphia native Ryan McCabe geared up for his office's annual fundraising campaign for St. Jude in July, he decided to try something a little different to bring in more money than ever. So, on a whim, McCabe tweeted at Oprah asking for the talk-show queen to help him out, but didn't expect to hear back, according to CBS Philly. But Oprah nearly immediately responded, offering him either an autographed bag or pair of heels to be auctioned for the cause.
@phillyroll87 bag or shoes better..contact @mayawatson

— Oprah Winfrey (@Oprah) June 12, 2013
McCabe was stunned and grateful.
"The shoes themselves are worth a lot so I am hoping with her autograph it can be something great," he told CBS.
Charitybuzz , the site that's hosting the auction, estimates that the Louboutins are worth $2,000, and St. Jude can likely expect some high-rollers to step forward.
When Oprah first experimented with charity auctions on eBay in 2003, she offered up two chairs from her set and some clothes –- which included a Chanel sweater and ski outfits, USA Today reported. The items fetched $83,500.
The shoes will be available for bidding through Aug. 27. Find out more about how you can snag the pair here.

BEFORE YOU GO
PHOTO GALLERY
Oprah's style evolution