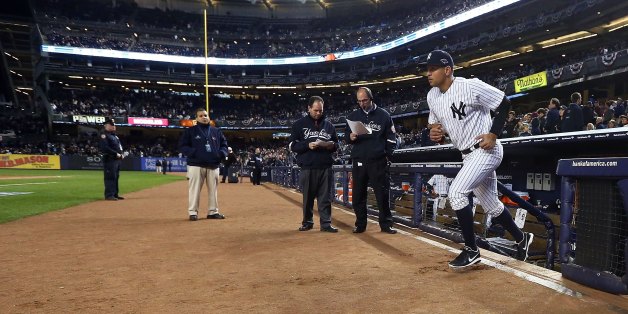 A-Rod is apparently "super excited" for his return to the Bronx. But what about Yankees fans? With Alex Rodriguez set to make his home debut at Yankee Stadium on Friday night, fans of the pinstripers are faced with a question: Do they boo?
Eligible to remain in the lineup as he appeals his 211-game suspension for both violations of MLB's Joint Drug Prevention and Treatment Program as well as its Basic Agreement, Rodriguez's first three appearances have all been on the road -- and come in losses.
"I'm just super excited to come home, put on the pinstripes and play for the greatest fans in baseball," Rodriguez told reporters after the Yankees' game on Wednesday. "I am looking forward to getting back home. I have waited a long time. It's a privilege to get home on a Friday night."
The 38-year-old third baseman played his first game of the 2013 campaign after recovering from offseason hip surgery on Monday. Rodriguez's season debut came just hours after MLB Commissioner Bud Selig hit him with a 211-game ban and 12 other players with 50-game suspensions. That loss to the White Sox in Chicago, garnered season-high ratings for the YES Network. But will fans tune or turn up on Friday at Yankee Stadium to support A-Rod or to jeer him?
New Yorkers who picked up a copy of the Daily News on Friday might find themselves swayed by the bold headline. As Keith Olbermann noted in his return to ESPN on Thursday, fans in the Bronx have a checkered history not only with Rodriguez but also with several of the other stars who have worn the pinstripes over the years, including Mickey Mantle.
"The boo or cheer answer may come down to this: The first nine Yankee third baseman -- Adams, Cruz, Gonzalez, Lillibridge, Nelson, Nix the Younger, Nunez, Wells and Youkilis -- hit a total of four home runs. In the calendar year before he returned, Rodriguez hit three," Olbermann explained on Thursday night. "The joke in baseball has always been that Yankees fans will cheer for the worst guy on the planet if he could hit. The amount of truth behind that joke may now be gauged in ways heretofore unimaginable."
Indicating that he might still be able to hit a bit, Rodriguez has gone 3 for 11 with two walks against two strikeouts in his first three games back for a .273 batting average. With the Yankees in desperate need of an offensive boost to bolster their flagging postseason hopes, Rodriguez could perhaps win over some fickle fans with his bat.
Suggesting a third way to that "boo or cheer" question referenced by Olbermann, Bob Klapisch of The Record wrote that fans should consider ignoring Rodriguez in his return.
"Doing so would only validate Rodriguez's belief that he's the center of the world – your world," Klapisch wrote on Thursday. "It'd much more effective to simply ignore A-Rod as he steps to the plate on Friday. That's right: stifle the urge to empty your lungs and say….nothing."
BEFORE YOU GO
PHOTO GALLERY
2013 MLB Season Highlights