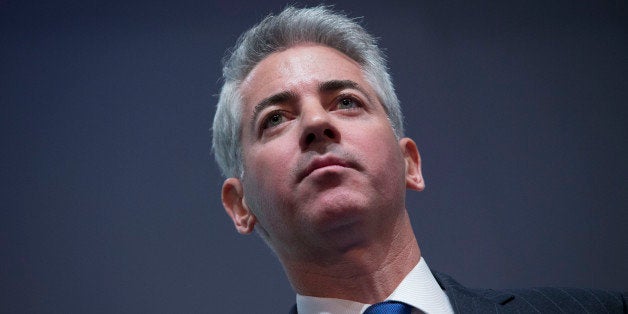 With the future of the century-old department store brand in their hands, members of J.C. Penney's board of directors are squabbling amongst themselves in a vitriolic public fight.
Board member and activist investor Bill Ackman sparked more turmoil Friday when he issued an open letter slamming his colleagues for their incompetency and accusing some directors of placing their personal agendas ahead of the health of the company.
"Directors must put personal relationships and issues aside that might color their decision-making process," Ackman said in the letter. "The board must be led by a Chairman who is unbiased, can make decisions without regard to personal relationships, and focused only on what is best for the corporation."
"In recent weeks, our board has ceased to function effectively," he added.
The billionaire hedge fund manager demanded a board meeting and called for the ouster of chairman Tom Engibous, suggesting former J.C. Penney chief executive officer Allen Questrom as his replacement. Questrom said in an interview with CNBC on Thursday that he would consider taking the position if the board is not "hostile."
Ackman said that personal relationships and "other business dealings outside of J.C. Penney" are affecting the judgment of some board members. He questioned the motives behind J.C. Penney's recent hiring of Kraft Foods executive Debra Berman as chief marketing officer, describing her as a "friend" of Mary Beth West -- an executive at Mondelez who serves on J.C. Penney's board.
"Sometimes CEOs hire friends of directors in order to curry favor with those directors," said Ackman. "While I am not suggesting that this is what has happened here, proper process was not followed in this personnel decision."
Ackman expressed special disdain for interim CEO Mike Ullman, who was brought on in April to steady the ship following the firing of former CEO Ron Johnson. He accused Ullman of providing analysts with false information in telling them that he will head the company for the long haul.
"That explains why the analyst community was so surprised yesterday to hear that the board had started a search process," said Ackman. "If Mike had told the truth that he was indeed an interim CEO, there would be no disruption in revealing that a search process was underway."
On Thursday, Ackman leaked a separate letter to the media in which he called for Ullman's removal in the next 30 to 45 days and noted that Questrom may be willing to return to the company as chairman. He explained in his letter on Friday that he wanted to announce the CEO search publicly, but was denied by the board. He then went to the media, he said, because it was the "right thing to do as a fiduciary for the Company and its shareholders."
Engibous responded with his own public statement, expressing the board's support for Ullman and criticizing Ackman's recent actions as "disruptive and counterproductive."
Howard Schultz, the CEO of Starbucks, where Ullman currently sits on the board of directors, came to the J.C. Penney CEO's defense as well.
"Mike is working tirelessly to save this company, and it is despicable of Ackman to leak a letter asking for his removal," Schultz told The Wall Street Journal. "The irony is that Ackman himself has every step of the way severely damaged this company."
One J.C. Penney executive, who spoke on condition of anonymity for fear of retaliation by his employer, said Ackman was causing trouble and that the company needs to find a way to get rid of him.
"He's a snake anyway," said the executive.
Ousting Ackman may not prove too difficult. According to a report from The Wall Street Journal on Thursday, at a board meeting on July 22, Ackman threatened to sell his stock and leave the board if the company didn't move quickly to find a replacement for Ullman.