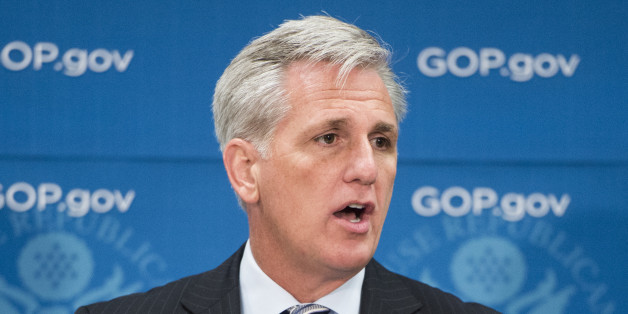 House Majority Whip Kevin McCarthy (R-Calif.) joked on Tuesday about how his life would be different if he were like his counterpart on the Netflix drama "House of Cards."
(Spoiler ahead.)
There's one major difference between the fictional whip and the real one: McCarthy hasn't killed any members of his conference, as Kevin Spacey's character does on the show. McCarthy said Spacey called him to research the part.
"I'll say this about Spacey, I actually liked him -- philosophically we're different -- but do you know why? I believe if Spacey made 100 bucks a week acting, he'd still act," McCarthy said at an event in Newport Beach, Calif., according to the Daily Pilot. "He does what he believes in; he does what he likes. He portrays this person with all the wrong things you hear about Washington. He literally murders one member. If I could murder one member, I'd never have to worry about another vote."
As majority whip, McCarthy is responsible for rounding up votes on measures the Republican leadership hopes to pass. He has used pop culture references before in attempts to unite his conference. The Washington Post reported in 2011 that McCarthy aired a clip from "The Town," a 2010 Ben Affleck movie about bank robbers, during debt ceiling negotiations:
In the segment of footage reportedly shown, Doug MacRay, a bank robber played by Affleck, says to his friend Jem Coughlin, played by [Jeremy] Renner, "I need your help. I can't tell you what it is. You can never ask me about it later. And we're going to hurt some people." Jem then responds, "Whose car are we gonna take?"
Former House Majority Whip Jim Clyburn, who like Spacey's character is a Democrat from South Carolina, told HuffPost's Jennifer Bendery in March that he'd never seen "House of Cards," but the congressman's staff sometimes mentioned it.
"I hear that there's some things that my staff find a bit familiar," Clyburn said. "And that may be why I don't want to watch it."
BEFORE YOU GO
PHOTO GALLERY
UK TV Remakes The US Got Right