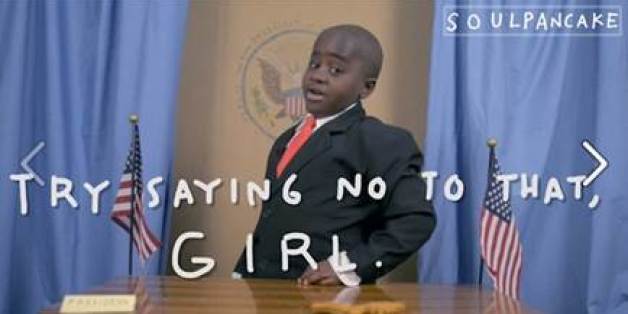 Kid President, our favorite little Commander-in-Chief, is continuing to reach new heights when it comes to being awesome.
In a recent video message, Kid President asks Beyonce to join him in making a video to promote the U.N.'s upcoming World Humanitarian Day on Aug. 19. The advocacy day, launched in 2009 by the General Assembly, recognizes aid workers who have either lost their lives or risked their personal safety to help others.
His appeal is so smooth and direct that it would be surprising if Beyonce could resist his goofiness -- or his crazy kid antics. Kid Prez goes on to act out his ideal dialogue, using a T-Rex chicken nugget to play his part (because he is strong, he says) and a Stegosaurus nugget as Queen Bey.
Kid President, the T-Rex chicken nugget: "Let's pledge to make the world better."
Beyonce, the Stegosaurus chicken nugget: "World Humanitarian Day is so important."
Kid Prez: "You got it, girl."
In a recent promotional video, Secretary-General Ban Ki-moon announced that this year's theme asks the question "What do you think the world needs more of?" He asks viewers to visit the World Humanitarian Day website on August 19th to share their suggestions.
For last year's World Humanitarian Day, Beyonce performed, "I Was Here," at the U.N.'s General Assembly Hall to inspire themes of positive impact and altruism all over the world. She expressed both her affinity to do good and also the importance of the U.N.'s humanitarian message in an interview with Anderson Cooper last year.
"'I Was Here' says I want to leave my footprints in the sands of time, and that is leaving our mark on the world," she said. "We all want to know that our life meant something, and that we did something for someone else, and that we spread positivity no matter how big or how small."
BEFORE YOU GO
PHOTO GALLERY
Beyonce At Revel