Bill de Blasio bounded down a staircase into a subway station in Brooklyn's Clinton Hill neighborhood at rush hour Monday morning. A handful of campaign workers with signs and handouts were waiting for the towering New York mayoral candidate to show up.
A smile crossed his face. He was in a good mood -- a rather glowing front page story about his left-of-center campaign ran in The New York Times that morning.
For months, de Blasio stumped with bread-and-butter proposals to aid the poor and working class. He appealed to the middle class with a liberal agenda promoting green technology, equality for women in the workplace, and job growth in the tech and entertainment industries.
Now, it seemed, his message was breaking through.
DE BLASIO'S 'VERSION OF A DATE'
As commuters waited for Manhattan-bound trains, de Blasio, 52, still beaming, introduced himself to them. "Hi, I'm Bill de Blasio and I'm running for mayor. Have you been paying attention to the race?"
His wife, Chirlane McCray, joined him to spread the word, too.
"This is our version of a date," de Blasio said, using a punchline that he recycles.
He happily talked to potential voters about one of his policy proposals, to hike taxes on New Yorkers earning more than $500,000 to fund universal pre-kindergarten and after-school programs for middle-schoolers. (The tax would require approval by the state government.)
His campaign rests on the idea that New York is "a tale of two cities," divided between the haves and have-nots. Almost half of the city's population lived in or near poverty in 2011 -- a statistic that de Blasio frequently mentions. The villain in his story is none other than billionaire New York Mayor Michael Bloomberg.
The pre-K tax is perhaps the centerpiece of his platform to alleviate economic and racial disparities. But de Blasio, the city's public advocate since 2009, also wants to build affordable housing, rescue hospitals on the verge of closing and reform the police department's controversial stop-and-frisk program.
A woman on the subway platform looked up at the lanky, 6-foot-5-inch de Blasio and asked what he'd do about Styrofoam and plastic bags.
"I'm against them," the graying candidate said. "I'd like to get rid of them."
Ah, he's got a plan for that too.
THE 'PROGRESSIVE ALTERNATIVE'
Twelve years with Bloomberg in City Hall has changed the city dramatically. Luxury housing towers have risen all over. The Yankees and Mets reside in new baseball stadiums. An expanded network of bicycle lanes crisscross the boroughs. Restaurants and bars are smoke-free.
Remaking the city's visual landscape isn't as important to him, de Blasio told HuffPost.
"This is less about physical achievements [than] addressing the inequalities that I think are rampant in the city. A different relationship between politics and community is not represented in a new building."
A New York Times-Siena College poll of registered voters last week showed Anthony Weiner, an early favorite on the left because of calls for a single-payer health care system, falling to fourth place. The ex-congressman led in some earlier polls, but his support eroded to only 10 percent, his lowest yet since the newest sexting scandal, in the Times-Siena poll.
Holding relatively steady atop the poll, council Speaker Christine Quinn scooped up 25 percent.
De Blasio has jostled with ex-Comptroller Bill Thompson for second. The Times-Siena poll showed de Blasio at 14 percent, two points behind Thompson. But data from other surveys has shown him ahead of Thompson by similar slim margins. The wild card is the 26 percent of voters who were undecided.
(If no candidate wins 40 percent of the primary vote on Sept. 10, there will be a runoff between the top two finishers.)
"I'm the candidate for voters who want a progressive alternative," de Blasio said on Tuesday after touring Per Scholas, a center that provides free IT training to adults. "Before Anthony came along I was in second in some polls and now when we returned to the issues, there I was in second place."
Bloomberg's deputy mayor Howard Wolfson disparaged de Blasio's platform on Twitter as a throwback to the 1970s with "higher taxes, bigger govt, more biz mandates."
Political observers said that de Blasio's claim to the progressive mantle was legit.
"De Blasio has gone to the left and emphasized that," said Brooklyn College journalism professor Paul Moses. "Quinn is kind of stuck in the center out of her loyalty to [Mayor Michael] Bloomberg. That's a problem for her in the primary. Thompson has come across mainly as a centrist."
The wave that's carried de Blasio over the past two weeks continued with lefty magazine The Nation endorsing him on Thursday.
Even hipsters like him; a group of them recently gathered at a pizzeria in the rapidly gentrifying neighborhood of Crown Heights to show their support.
THE FAMILY PLAN
"I feel great about the support we've received particularly in the last weeks," de Blasio said while drinking a mint lemonade in a Chelsea cafe on a muggy afternoon. He'd gotten caught in a light shower, leaving his blue dress shirt dotted with raindrops. "Our first ad's out today and the response has been very favorable already.'
The ad was a 30-second commercial starring his 15-year-old multiracial son, Dante. The teenager says his dad "is the only Democrat with the guts to really break from the Bloomberg years," particularly on the issue of stop-and-frisk that disproportionately targets blacks and Latinos.
Asked if allowing his son to criticize Bloomberg made it difficult for the mayor's office to respond without appearing to attack a minor, de Blasio said:
"Everything that's said in that advertisement I've said thousands of times before and they clearly haven't had any trouble responding to it."
Dante, his older sister, Chiara, and their mother, McCray, play such a large role in de Blasio's campaign, it's almost like the whole family is on the ballot. Insiders say frequent appearances by McCray, who is black, and the children are an attempt to make inroads with minority voters who might gravitate to Thompson, the only African-American in the race.
The recent Times-Siena poll revealed Thompson grabbing 24 percent of the black vote to de Blasio's 12 percent.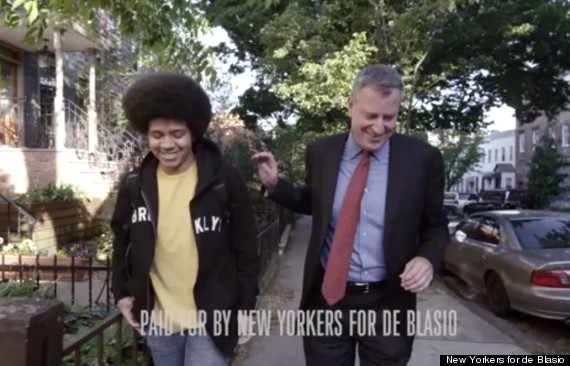 JUNIOR STAFFER TO MAYORAL CANDIDATE
The comfortably bourgeois neighborhood of Park Slope is home to de Blasio and his family. He and McCray (who wrote an Essence article in 1979 about being a lesbian) met as young staffers in then-Mayor David Dinkins' administration.
Subsequently, de Blasio worked for Andrew Cuomo, who was then-President Bill Clinton's secretary of Housing and Urban Development. In 2000, de Blasio managed Hillary Clinton's successful U.S. Senate campaign. The following year, he won a seat in the city council.
When Bloomberg pushed to overturn term limits in 2008, de Blasio emerged as a vocal critic. Unlike many colleagues in the council who supported the reversal and safely won reelection, de Blasio beat out several opponents to become the city's public advocate.
Public advocate is the city's second-highest office, yet it comes with a small budget and few written powers. The public advocate essentially serves as an ombudsman to investigate complaints or waste in city government.
De Blasio has used the position to shame the city's worst landlords with a searchable database of offenders. Small business owners found an ally in him when he called for the city to reduce the fines and tickets imposed on entrepreneurs.
"The office is what the individual in the office does with it. You almost can't build a resume out of that office," said Baruch College professor Doug Muzzio. "Bill's major accomplishment has been articulating a political philosophy and beliefs that have been passed by in the Bloomberg and Giuliani administrations."
VULNERABILITIES
While de Blasio positioned himself toward the left, that flank isn't rock solid behind his candidacy. The Working Families Party has not endorsed a candidate in the race. Some members of the city council's progressive caucus are backing Quinn. The city's biggest union, 1199 SEIU, is in de Blasio's camp, but rivals Quinn and Thompson have support from influential unions, too.
Heads turned when the erstwhile staunchly pro-labor de Blasio said earlier this month that he was "unburdened by the support of the municipal labor unions."
That provoked a swift rebuke from the head of the United Federation of Teachers.
"I am surprised he would have found our endorsement such a potential threat to his independence -- particularly since he was on my calendar so many times earlier this year," said UFT President Michael Mulgrew in a statement, "many of our staff members thought he had an office in our building."
De Blasio insisted that there was no backlash from 1199. Union officials, however, wouldn't talk to HuffPost about the remark.
Ideological posturing may not be a decisive factor, said the conservative-leaning Manhattan Institute's Steve Malanga.
Since 1977, only when voters chose Dinkins, who was serving as Manhattan Borough President, in 1989 over Giuliani have they picked a sitting city official for mayor.
"I don't think after all these elections that this is a coincidence," Malanga told HuffPost. "The people of New York in general don't understand what a lot of their other elected officials below the level of the mayor do and they don't have a lot of confidence in them."
CRITICAL MOMENT
Bloomberg's first campaign was propelled by touting his executive leadership when the city was reeling from 9/11. Giuliani won in 1993 with a tough-on-crime message.
The crisis today is inequality, de Blasio argues, and he says he's best suited to overcome it.
"I've done pretty well economically. I don't happen to come from wealth. Chirlane doesn't come from wealth. We relate to the vast majority of people in this city who are experiencing challenges." BEFORE YOU GO
PHOTO GALLERY
2013 NYC Mayoral Candidates