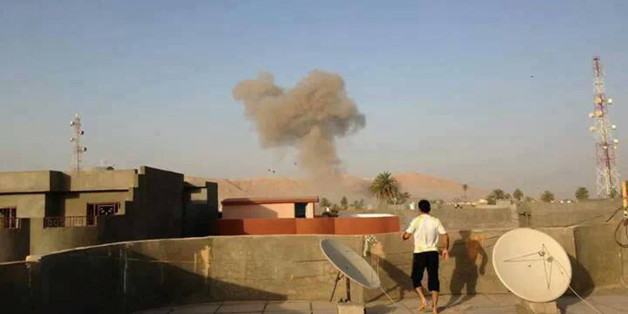 * Saturday attacks killed nearly 80
* Sectarian violence escalating
* U.S. repeats offer of $10 mln for head of al Qaeda in Iraq (Recasts with new attacks, British government reaction)
By Sylvia Westall
BAGHDAD, Aug 11 (Reuters) - Shootings and a bombing killed at least seven more people in Iraq on Sunday, after a day of carnage as sectarian tensions rise across the country.
The United States condemned a wave of car bombings which killed nearly 80 people across Iraq on Saturday, saying those who had attacked civilians during celebrations marking the end of Ramadan were "enemies of Islam".
Bombs ripped through markets, shopping streets and parks late on Saturday as Iraqis were out celebrating Eid al-Fitr, the end of the Muslim fasting month.
Eighteen months since the last U.S. troops withdrew, Sunni Islamist militants have been regaining momentum in their insurgency against Iraq's Shi'ite-led government.
Saturday's attacks targeted mainly Shi'ite districts and the renewed violence has raised fears Iraq could relapse into the sectarian bloodbath of 2006-2007.
The civil war in neighbouring Syria has aggravated tensions further and Iraq's Interior Ministry has said it is facing an "open war".
"The United States condemns in the strongest possible terms the cowardly attacks today in Baghdad," the State Department said.
"The terrorists who committed these acts are enemies of Islam and a shared enemy of the United States, Iraq, and the international community."
It said the United States would work closely with the Iraqi government to confront al Qaeda and discuss this during a visit of Foreign Minister Hoshiyar Zebari next week to Washington.
DEADLY RAMADAN
This has been one of the deadliest Ramadan months in years, with bomb attacks killing hundreds. Bomb attacks in Baghdad on Tuesday killed 50.
On Sunday gunmen opened fire at a checkpoint manned by Sunni militia, killing two and wounding two in the town of Buhriz, about 60 km (35 miles) northeast of Baghdad, police said.
Further north, gunmen attacked a busy park in the town of Balad, killing two and wounding three, police said.
To the south of the capital, three anti-terrorism squad officers were killed and nine wounded by a roadside bomb in the town of Mahaweel, 60 km (35 miles) from Baghdad.
More than 1,000 Iraqis were killed in July, the highest monthly death toll since 2008, according to the United Nations.
"These attacks follow a number of shocking incidents that have taken place across Iraq recently and are clearly intended to fuel sectarian strife and destabilise the country," British Foreign Minister Alistair Burt said in a statement.
"This carnage reflects the inhuman character of its perpetrators," United Nations envoy to Iraq Gyorgy Busztin said.
"All honest Iraqis should unite to put an end to this murderous violence that aims to push the country into sectarian strife."
The State Department said Saturday's attacks bore the hallmarks of al Qaeda's Iraqi (AQI) branch. It reiterated that it was offering a $10 million reward for information leading to the killing or capture of Abu Bakr al-Baghdadi, the AQI leader.
Last month al Qaeda claimed responsibility for simultaneous raids on two Iraqi prisons and said more than 500 inmates had escaped in the brazen operation.
The reward for Baghdadi is second only to that offered for information leading to the capture of Ayman al-Zawahri, the overall chief of al Qaeda's network, the State Department said. (Additional reporting by Ali al-Rubaie in Hilla, Ghazwan Hassan in Tikrit, Suadad al-Salhy in Baghdad and a Reuters reporter in Baquba; Editing by Andrew Roche)