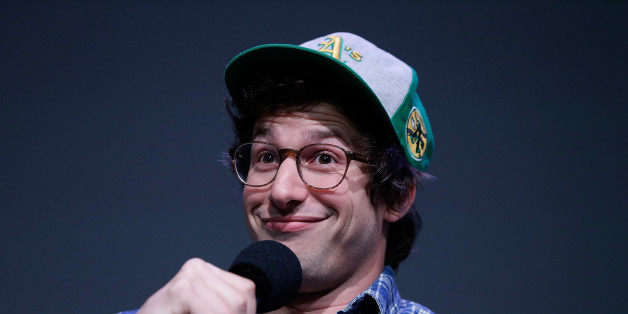 Today, we thank the comedy gods for bestowing a special gift upon us.
August 18 is Andy Samberg's 35th birthday. Andy, also known as Ardy Party and Jandy Timsamlake (when cavorting with JT), will forever be our favorite funny guy.
The Berkeley native has accomplished a huge amount in Hollywood. He hit Internet gold as part of The Lonely Island, his slapstick sketch troupe created with junior high BFFs Jorma Taccone and Akiva Schaffer. Their Youtube videos along with stints writing for MTV awards shows landed them in Lorne Michaels' office. In 2005, the trio began writing for "Saturday Night Live" and Andy's ridiculous digital short cameos turned into a recurring cast role for seven years.
Since then, he's starred in dozens of movies and appeared on friends' television shows ("Parks and Recreation," "30 Rock" and "Portlandia"). Andy elevated dick jokes, awkward faces and satirical spoofs to an art form, thus solidifying his place in comedy history. Join us in celebrating his special day as we salute Samberg's 35 funniest moments.
1. Die-hard Samberg fans are familiar with The Lonely Island's 2005 pilot, "Awesometown." So good.

2. Goofy guys with furry friends (that aren't laser cats) will only result in silliness.

3. Another Lonely Island throwback -- "sup chip?"

4. Jorma and Akiva hated on "Steve" in the "Just 2 Guys" videos.

5. Everything about this is hysterical.

6. A rare "SNL" political impression strayed from his usual digital shorts.

7. Classic.

8. It is impossible to say "Neese's Pieces" without laughing. Fact.

9. Stealing a smooch from Seth.

10. What is even going on in this skit?!

11. Character breaks are the best.

12. JT and Andy dance their fiercest "Single Ladies."

13. This deep v-neck skit cracks us up.

14. Lazy Sunday was legendary. Round two was equally amazing.

15. The "I Just Had Sex" reactions were on point. "I SAW YOUR BOOBIES!"

16. The greatest Rastafarian we know. Skiddily whoa.

17. The dudes nailed it on "The Creep" with help from Nicki Minaj.

18. Promote synergy!

19. Pure excitement post coitus.

20. Welcome to the Space Olympics in the year 3022.

21. Ah, "The Mellow Show." Andy as Jack Johnson killed it. HEMP NECKLACE!

22. Remember Natalie raps?

23. Julian Casablancas, y'all. A boombox is not a toy.

24. Because we can rap the song verbatim.

25. "Dick In A Box" was first but "3-Way" guest-starred Lady Gaga and gave us this essential advice.

26. As I recall, it was a horror film.

27. Kenan as Reba McEntire admittedly makes this.

28. Andy's cameo stole the spotlight from Michael Cera.

29. The only redeeming quality of "That's My Boy."

30. Please note how this lineup is entirely made of "SNL" people.

31. Peter Klaven's gay brother, Robbie, was fantastic.

32. Who could forget "Hot Rod"?

33. Life's short. Stunt it.

34. Bill Hader shares a tender moment behind-the-scenes.



35. Finally, TV's two funniest guys make geeky look cool. Happy birthday Andy!

BEFORE YOU GO
PHOTO GALLERY
Funny Women We Love