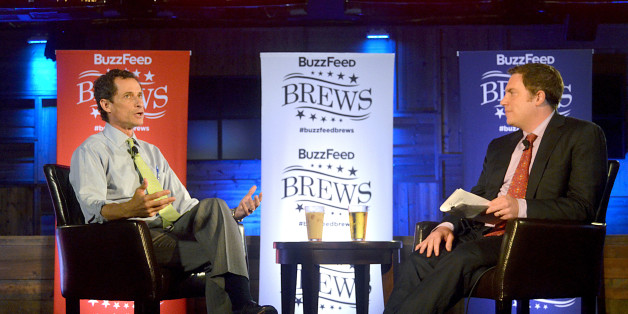 NEW YORK -- Ask Anthony Weiner just about anything and he'll respond. Just don't bring up Snapchat.
The New York mayoral candidate had nothing to say about the smartphone photo-sharing app that saves sexters from everlasting humiliation by deleting incriminating photos seconds after the recipient takes a look.
Weiner, who's seen his mayoral hopes plummet after a second sexting scandal unfolded this summer, talked about his wife, the Clintons and the media in an interview Monday with Buzzfeed's Ben Smith. But he had no comment when Smith asked if he should have used Snapchat.
The question was part of a rapid-fire 45-minute interview in a bar in Manhattan's Chelsea neighborhood.
Smith goaded Weiner by asking if he thought he'd been set up by Sydney Leathers, the woman who revealed her sexts with Weiner and who recently cashed in on the Internet exchanges with a reported six-figure website job.
"No one to blame but [me]," Weiner told Smith, insisting his graphic online life is behind him. "I didn't exchange anything inappropriate with her going back a year. I treated her like a friend."
Whatever role Weiner's wife, Huma Abedin, will play in Hillary Clinton's expected presidential run in 2016 is already set, Weiner said. But mum's the word on that, too.
"I'm not telling you," Weiner told Smith. Abedin is Clinton's transition office chief.
And when did Weiner last speak to the Clintons, Smith asked.
"Months ago," Weiner answered. "I've given a wide berth to my colleagues in public life."
For now, Abedin is "helping out every day," on Weiner's beleaguered mayoral campaign, he said.
The packed bar was nearly silent when Weiner strode onto the platform, where Smith waited for him. He barely registered any applause at the end of the interview.
But he got a good laugh by jabbing at Buzzfeed when Smith asked him to describe the state of his relationship with comedian Jon Stewart, an old friend from College of William & Mary.
"You can do this, or show videos of cats or whatever it is you do," Weiner said. In the end, Weiner said he hasn't spoken to Stewart in six months.
It wasn't all about sexting scandal and personal life. There were some policy questions, too.
Although Weiner has been critical of the New York Police Department's stop-and-frisk policy, ruled unconstitutional Monday by a federal judge, he praised Police Commissioner Ray Kelly.
"He's an excellent servant of the people," Weiner said. "This policy was wrong."
When asked why a college-aged woman should vote for Weiner, given his personal life, the candidate replied:
"Remember what job you're voting for. If you want someone who has a spotless personal record, then you haven't had someone like that in years."
He declined to name the last mayor with a clean private life.
"What's your next question?"
Weiner pulled no punches discussing The New York Times, which published a prominent story about his one bill that passed during his more than 11 years in Congress.
"It's part of a concerted effort," Weiner complained. "The New York Times -- wait for it -- doesn't want me to win."
Their "heads are exploding over the idea" that he could succeed Mayor Bloomberg, he added.
He didn't mention the lengthy article that appeared in the Times magazine, which relaunched his political career this spring.
While he didn't write many bills that became law, Weiner defended his congressional record, saying he got Newtown Creek declared a Superfund site and secured stimulus spending that helped the city.
"Somehow fighting for New York doesn't count as being a good congressman," Weiner said. "It's ridiculous."
CORRECTION: An earlier version of this story omitted that Huma Abedin is Hillary Clinton's transition office chief.
BEFORE YOU GO
PHOTO GALLERY
Celeb Endorsements For NYC Mayoral Candidates