 The NFL is a league of tremendous parity, thanks in no small part to the annual barrage of breakout stars. This certainly was true last season, when guys like Russell Wilson, Doug Martin and Demaryius Thomas became household names and fantasy studs practically overnight. 2013 may not have the stellar trio of rookie quarterbacks like Wilson, RG3 and Andrew Luck -- and of course it includes a cadre of big-name busts -- but it does feature some seriously talented guys poised to break out.
Let's take a look at my top fifteen guys for 2013 Fantasy Football rosters.
Lamar Miller, RB, Miami Dolphins
Miller is a local product who helped make departed running back Reggie Bush expendable. Miller is lightning in a bottle (4.34 40) and a capable one-cut back who excels in space. He will share carries this season with bruiser -- and potential touchdown vulture -- Daniel Thomas, but Miller's patience, pass-catching ability and overall home run threat should allow him to receive most of the carries. Snag him in the fourth or fifth round and thank me later.

Jamaal Charles, RB, Kansas City Chiefs
Charles is a freak talent who has averaged 5.8 yards per carry during his short career. With a fully healthy knee and Alex Smith under center, he will get a ton of touches in 2013. It is absolutely feasible that he ultimately becomes the highest-rated fantasy running back this season.
T.Y. Hilton, WR, Indianapolis Colts
Hilton burst onto the scene last season as a rookie by catching a team high seven touchdowns. Alongside Pro Bowler Reggie Wayne, he is a great safety valve for Andrew Luck because of his reliable hands and third-down ability. Don't forget that he averaged over 17 yards per catch in 2012.
Bryce Brown, RB, Philadelphia Eagles
Brown was the No. 1 tailback in the nation coming out of high school, but he never really put his talent all together due to a string of issues off the field. When LeSean McCoy got hurt last year, though, Brown flashed a brilliant combination of quickness and strength by rushing for 178 yards and 169 yards in consecutive starts. McCoy is clearly the top dog here -- but Chip Kelly will give Brown plenty of looks, and he will capitalize.
Greg Olsen, TE, Carolina Panthers
Olsen was the lone bright spot for Carolina in 2012, totaling a career high 843 yards and five touchdowns. Cam Newton will be much better this season, and Olsen is a reliable threat inside the 20s. He is a legitimate TE1.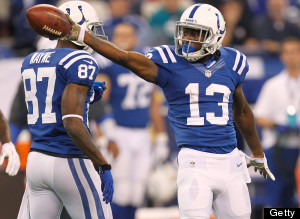 Colts second-year wideout T.Y. Hilton is Andrew Luck's best downfield weapon. (Gregory Shamus/Getty Images)
Ryan Tannehill, QB, Miami Dolphins
Tannehill surprised a lot of people -- myself included -- when he led the Dolphins back to respectability as a rookie. A former wide receiver, he is a splendid athlete with good feet and a surprisingly solid understanding of the position. He's not quite a QB1 yet, but the addition of speedster Mike Wallace gives Tannehill the downfield threat he needs.
Emmanuel Sanders, WR, Pittsburgh Steelers
Mike Wallace is long gone to Miami, which gives Sanders -- who signed an offer sheet with New England over the offseason -- a great opportunity to be Ben Roethlisberger's second option after Antonio Brown. Sanders, who enters his fourth NFL season, is coming off a career year. He is a sound route runner who should break out with added reps. A 1,000-yard season is realistic.
Ryan Mathews, RB, San Diego Chargers
Uber-high expectations have been bestowed upon Matthews since he came into the league four years ago. He has had problems staying healthy, but with a revamped Chargers offensive line, 2013 is the season for him to break out. Get him in the third round.
Eddie Lacy, RB, Green Bay Packers
At first glance, we might want to dismiss Lacy because of the Packers' emphasis on the passing game. However, after a season in which Aaron Rodgers tossed a whopping 552 passes -- a career high -- Green Bay wants to regain balance. Lacy's dynamic ability inside the tackles and fantastic overall toughness will earn him a boatload of carries as the season progresses. Fellow rookie Johnathan Franklin is also in line for some work here, but Lacy is the clear frontrunner.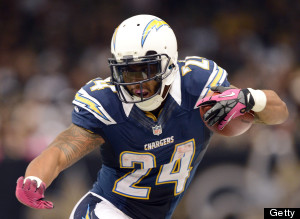 Chargers running back Ryan Mathews is poised for a big season. (Harry How/Getty Images)
Tyler Eifert, TE, Bengals
Eifert -- the first-rounder out of Notre Dame -- is an immediate impact guy. Not only will he aid fellow tight end Jermaine Gresham, but because of his incredible hands and red zone ability, he instantly becomes a go-to threat for Andy Dalton inside the 20.

Pierre Garcon, WR, Washington Redskins
Garcon is versatile enough to go over the middle, but can break the quick slant into a 40-yard touchdown as well. He got off to a fabulous start last year before a brutal foot injury, and then endured offseason shoulder surgery. RG3 and this offense will lean on him, and opportunities will be bountiful. I love Garcon this season both in terms of production and the all-important value.

Vincent Brown, WR, San Diego Chargers
Phillip Rivers can't get worse, and with Danario Alexander out for the season, Brown is his best bet after Malcolm Floyd. The artist formerly known as Antonio Gates has seen his best days, and Brown's overall shiftiness and reliable hands are a nice plus.
Dwayne Bowe, WR, Kansas City Chiefs
It feels strange to put a guy of Bowe's caliber on this list, but he has become a forgotten man in Kansas City. Well, no more. Alex Smith isn't exactly Tom Brady, but he isn't Matt Cassel either. Smith's consistency under center and overall accuracy will help Bowe regain his Pro Bowl form of 2010 when he caught 15 touchdowns. Like Larry Fitzgerald, he is a big time playmaker. Everyone needs a quarterback.
Montee Ball, RB, Denver Broncos
For a guy who rushed for 3,753 yards and 55 touchdowns during his final two seasons at Wisconsin -- he also is the all-time leader in D1 touchdowns -- Ball inexplicably dropped to the late second round of the NFL draft before Denver snatched him up. The former Doak Walker winner is an elusive runner with excellent hands and, perhaps most importantly with Peyton Manning under center, could become a reliable blocker as well. He is a dark horse Rookie of the Year candidate for me. In other words, don't be afraid of his sub-par 4.66 speed.

Giovani Bernard, RB, Cincinnati Bengals
Much like Doug Martin last year, Bernard enters the season as a somewhat unknown rookie. That will NOT last long. A naturally fluid runner with superb hands, Bernard's ability to play all three downs is an upgrade from the stiffer BenJarvus Green-Ellis. Expect a 50-50 split to open the year, but that may not last long either. The Bengals would love to alleviate some of the pressure from Andy Dalton, and Bernard can do just that.
Email me at jordan.schultz@huffingtonpost.com or ask me questions about anything sports-related at @Schultz_Report. Also, be sure and catch my NBC Sports Radio show, Kup and Schultz, which airs Sunday mornings from 9-12 ET, right here.
BEFORE YOU GO