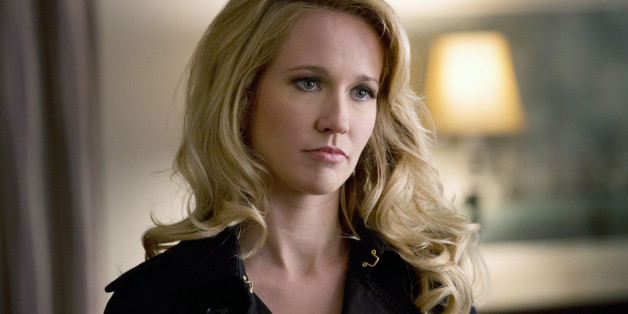 The world of "True Blood" is about to change. Anna Camp, the nefarious Sarah Newlin, said fans are in for a shock with the "True Blood" Season 6 finale.
"Fans can expect to see the vampires changing the way they can live in the world," Camp told ET Online. "You've seen a little bit of that with Bill walking in daylight. I think 'True Blood' has a certain set of rules of how the characters live in the world, but that's about to change. It expands the show in a way that will excite and interest the fans. It's also kind of shocking!"
"True Blood" Season 6 has been a big season for Camp. Her character returned for the first time since Season 2 and has been doing everything in her power to take down vampires, including murder.
"I always felt that there was something unresolved at the end of Season 2. I never got to go to the vampire-human war that took place in the church that season and I was always really bummed out," Camp told Rolling Stone. "I wanted her to get some stuff done and the fact that it finally came around this season, I was so thankful. I always thought she was hiding something behind that calm, quiet exterior. She shoots Jason [Stackhouse] at the end of the season with a paintball gun or whatever -- I think that was a hint at what was underneath. They're ripping off the layers this season. You get to see everything."
Camp noted she was thrilled to be a part of the violent "True Blood" scene where Sarah killed Tru-Blood CEO Ms. Suzuki (Tamlyn Tomita).
"I was excited beyond belief. I've never done a fight scene to that extent, and never murdered someone on camera before," Camp told ET. "I've been so thrilled to have such great things to do all season long, but I was really excited about that. It's right in my wheelhouse because I love playing shocking and weird moments you wouldn't expect from a character. We really went for it ... but I think my mom is scared of me now [Laughs.]."
Several cast members have been teasing other big changes to the series. "The world of 'True Blood' will be different at the end of this season ... different challenges for our characters," Deborah Ann Woll said.
HBO recently renewed "True Blood" for Season 7 and when that season kicks off, the show will be getting back to the basics, according to "True Blood" showrunner Brian Buckner. "[We hope] you're gonna feel that the show is going to return back to its roots and it's going to be about this group of people living in Bon Temps," he said. "We're going to condense the number of stories we're telling and make it feel like we're coming home."
"True Blood" airs Sundays at 9 p.m. ET on HBO.
PHOTO GALLERY
"True Blood"