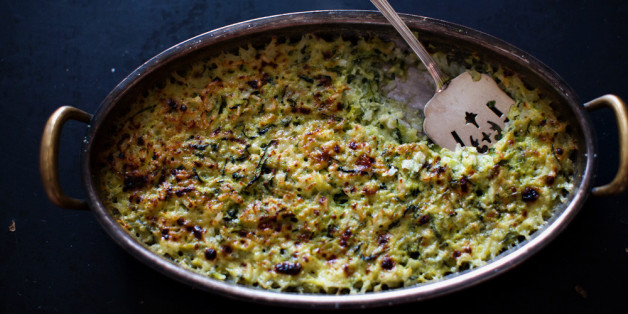 We have the only the best intentions when we invite as many friends as we can over for dinner. We love feeding people, hanging out with people, cooking big meals and drinking big drinks. But sometimes, inevitably, more people will RSVP with an emphatic yes than you'd originally prepared for, and that is when some well-meaning host and hostess hair can occasionally get pulled out. Don't panic. We've got some ideas.
The trick to feeding a big dinner party crowd -- we're talking 10 people or more -- is to keep your menu low cost, and low-maintenance. Think big pots of soup or stew, lots of small bites, slow-cooked whole roasts, ingredients that stretch really far like rice and beans. If you plan just a little in advance and do whatever you can ahead of time, feeding 10 or more people is just as easy as feeding three or four. All the recipes below are either built for ten, or easily multiplied to feed the hungry hordes.
Want to read more from HuffPost Taste? Follow us on Twitter, Facebook, Pinterest and Tumblr.
PHOTO GALLERY
What To Eat When You Need To Feed A Crowd