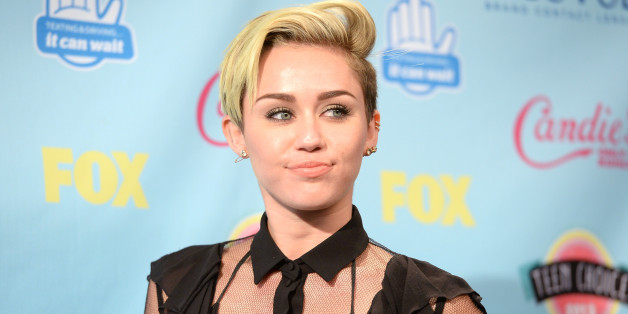 Miley Cyrus got feisty on Twitter when a user apparently reminded her that she is, in fact, white.
The topic of the 20-year-old's skin color surfaced Monday night when Cyrus posted a video to Instagram in which she appears with rapper French Montana, according to Oh No They Didn't!.
In the video, Miley sits beside Montana dressed in leather, gold chains and sunglasses. A clip of her vocals on the remix of his song, "Ain't Worried About Nothin," plays in the background.
"My first instavid wit my baby father @frenchmontana #aintworriedzboutnothing remix coming soon #haaannnn," she wrote.
Apparently, some people had a problem with all this -- and despite Cyrus' mass Twitter following, their comments didn't go unnoticed.
i know what color my skin is. you can stop with the friendly reminders bitch.

— Miley Ray Cyrus (@MileyCyrus) August 13, 2013
But the issue hasn't been Cyrus' race so much as it has been her perceived practice of cultural appropriation when it comes to other races.
After her twerk-tastic music video for "We Can't Stop" debuted last month, many criticized Cyrus for "accessorizing" with black people. Some found one scene in which she twerks beside three black women particularly offensive. Jezebel's Dodai Stewart took issue with how these women were positioned to the side of the frame while Cyrus, dressed in all white, remained in the center, creating a dynamic that "she is in charge and they are in service to her."
Furthermore, the writers behind "We Can't Stop" recently revealed the former "Hannah Montana" star wanted music that "feels black" for her new album. To this, Vice's Wilbert L. Cooper noted: "[I]t's hard not to come to the conclusion that Miley has a problematic view of what 'black' is."
Still, Cyrus insists she isn't just some "ratchet white girl."
"People have this misconception of me that I'm just one of these kids on TV and that now I go off and party and I'm just this ratchet white girl, and I'm not," she told Notion magazine. "I work really really hard, I'm just in a different environment. I'm young and living and in L.A. which is everyone's dream, you know."
BEFORE YOU GO
PHOTO GALLERY
Miley Cyrus' Transformation