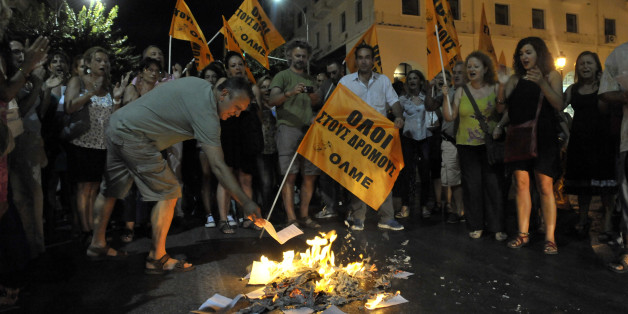 One quarter of positive GDP does not a recovery make.
Europe's gross domestic product grew 0.3 percent in the second quarter from the quarter before, according to Eurostat, the European Union's official keeper of economic data. That's the first positive GDP reading for Europe since the third quarter of 2011, and it ends an 18-month recession that broke the eurozone record.
So, all's well that ends well, right? European crisis over? Austerity wins?
Not so much. Though Europe's economy is at least in slightly better shape than it was, say, a year ago, there are at least five specific reasons Europe is in just about as much trouble now as it was three months ago, when it was still considered in recession:
1. GDP is not the best way to measure an economy's health. GDP alone says nothing about the quality of growth, future productivity or the happiness and well-being of its citizens. It ignores hidden economic activity and income inequality. And on a more technical level, GDP is heavily affected by stuff like inventories and trade that tell you little about where the economy is going, Columbia Management interest-rate strategist Zach Pandl wrote in a recent research paper.
2. GDP is not even the best way to measure a recession. People have a weird habit of calling two or more quarters of negative GDP a recession. It's an oft-used rule of thumb, but it doesn't make much sense in real life, partly for some of the reasons listed above. That's why the National Bureau of Economic Research, the official arbiter of U.S. recessions, defines a recession as "a significant decline in economic activity spread across the economy, lasting more than a few months, normally visible in real GDP, real income, employment, industrial production, and wholesale-retail sales." Most everybody agrees that the U.S. was officially in a recession in 2001, even though we never had two straight quarters of negative GDP in that recession.
3. Not every country in Europe is out of recession. Second-quarter GDP was pulled higher by strong growth in some countries, including Germany, France and Portugal. But France and Portugal are still touch-and-go, and several other countries -- including Spain, Italy and the Netherlands -- are still in recession. All it would take is a credit crisis in one of those countries to spark another debt panic and slam economic growth once again.
4. Weather played a role. Second-quarter GDP was probably boosted by some construction projects that had been delayed due to bad weather in the first quarter, according to IHS Global Insight Chief European and UK Economist Howard Archer. In a research note, Archer said the GDP report "overstates the region's economic health."
5. None of Europe's underlying problems have really been solved. Austerity is still the law of the land throughout much of the eurozone, particularly in countries that have gotten bailout money. That will keep a damper on growth going forward. The banking sector is still riddled with bad debts and hesitant to lend more, and unemployment is still at nosebleed levels, hampering consumer spending.
"While the second quarter expansion was modestly better than expected, the Eurozone still faces a tough job developing recovery momentum," Archer wrote.
BEFORE YOU GO
PHOTO GALLERY
Euro Area Countries With High Unemployment