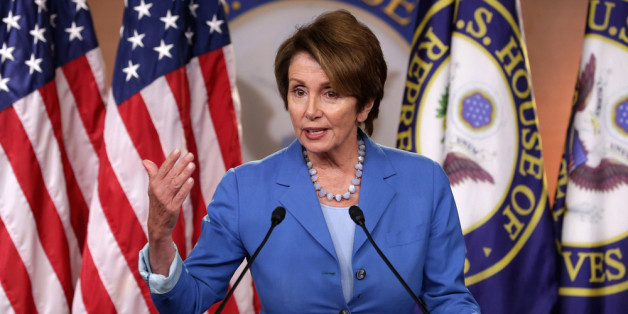 House Minority Leader Nancy Pelosi (D-Calif.) and Sen. Harry Reid (D-Nev.) are the latest to join the growing backlash against Russia's anti-gay restrictions, which officials have said will be in effect at the Sochi Winter Olympic games.
Russia's decision to criminalize equality is outrageous—worst prejudices shouldn't threaten world's best athletes at #Sochi2014.

— Nancy Pelosi (@NancyPelosi) August 14, 2013
We shouldn't tolerate discrimination on the basis of sexual orientation in Russia, at Sochi Olympics, or anywhere. http://t.co/WSNP4UOlPG

— Senator Harry Reid (@SenatorReid) August 14, 2013
The controversial law enacting many of the restrictions, signed by President Vladimir Putin in June, strictly prohibits anything that could be deemed "propaganda of nontraditional sexual relations" and subjects participants in gay pride rallies to steep fines for noncompliance.
Despite widespread condemnation of the restrictions, Russian authorities confirmed on Tuesday that the law would be upheld for the duration of the winter games.
While the law remains intact, a statement issued by the Russian Interior Ministry tried to put to rest any accusations of discrimination.
"Any discussion on violating the rights of representatives of nontraditional sexual orientations, stopping them from taking part in the Olympic Games or discrimination of athletes and guests of the Olympics according to their sexual orientation is totally unfounded and contrived," it said.
Alexander Zhukov, head of Russia's National Olympic Committee, further assured concerned viewers that participants should have no fear, so long as any "nontraditional" sexual preferences are kept mum. "If a person does not put across his views in the presence of children, no measures against him can be taken," he said.
LGBTQ advocates like gay U.S. figure skater Johnny Weir, however, remain unconvinced.
The controversy has led Sen. Jeff Merkley (D-Ore.) to draft a forthcoming resolution in protest of the law. The resolution, Merkley's spokesperson Jamal Raad told Buzzfeed, will call on the International Olympic Committee to both oppose the law as an entity, and also secure a guarantee that athletes and spectators alike will not be discriminated against at the games.

BEFORE YOU GO
PHOTO GALLERY
LGBT Athletes