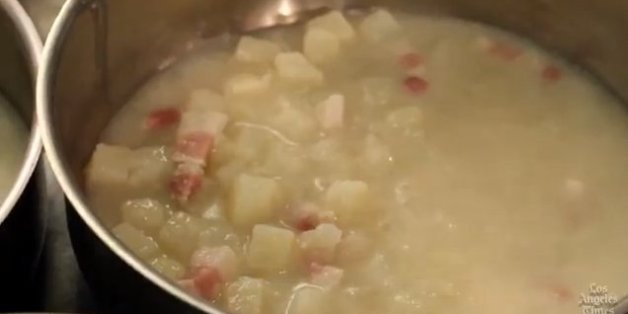 Pop quiz: is Rhode Island chowder the red or the white? Trick question -- it's neither.
That's right, Rhode Island clam chowder is clear, and Rhode Islanders take it pretty seriously. Onions, salt pork, butter, potatoes, clams, clam juice, water. Usually, that's it. Think of this as clam chowder for experts. With creamy New England clam chowder (which we still love despite all the things we're about to say about it), you're effectively masking the flavor of the clams and their ocean brine with dairy. Same goes for red, tomato-heavy Manhattan clam chowder, only it's the acidity of the tomatoes that mellows the clam's flavor. Rhode Island clear chowder is chowder for the clam lover. Which is fitting for a state so enamored of clams that it sometimes goes by "The Clam," itself.
Wait, you're thinking to yourself, this is just hot clam broth with pork and potatoes. Yeah, that's the idea. And as any Rhody will tell you, you need to wash it down with a cold Narragansett. Check out the three great chowders getting prepared, one by one, in the video below.
Get Chef Cimarusti's chowder recipe from The LA Times.
Want to read more from HuffPost Taste? Follow us on Twitter, Facebook, Pinterest and Tumblr.
BEFORE YOU GO
PHOTO GALLERY
American Regional Foods