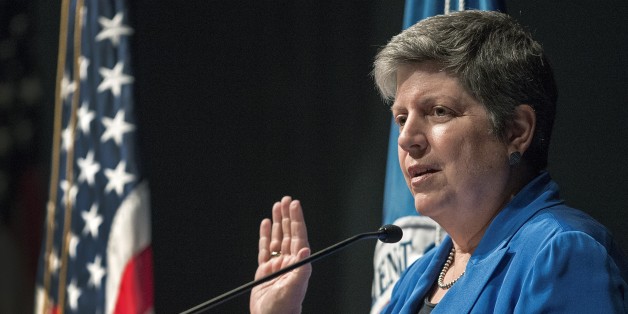 WASHINGTON -- Department of Homeland Security Secretary Janet Napolitano argued on Thursday that deferred action for young undocumented immigrants, which began one year ago, isn't permanent and isn't an excuse for inaction on immigration reform.
"[Deferred Action for Childhood Arrivals] is not a long term solution to the broader challenges presented by our nation's outdated immigration system," she said in a statement posted on the DHS site.
"I am hopeful that the House of Representatives will follow the leadership shown by a strong bipartisan majority of their Senate colleagues and work to fix our broken immigration system," she added. "In the meantime, however, DACA will continue to serve as an important means by which young people brought here as children can remain in, and contribute to, this great country."
Napolitano and President Barack Obama announced in June 2012 that undocumented young people who came to the U.S. as children would be allowed to stay temporarily if they met certain criteria, such as going to school or serving in the military. It was meant to be a reprieve for so-called Dreamers who would have been helped by the Dream Act, which failed in the Senate in 2010 and left those young people to be deported even if they had long-standing ties to the U.S. and arrived as children.
As of the end of June, 400,562 people had been accepted into the deferred action program of the more than 557,00 who had applied -- a 72 percent acceptance rate with many applications still pending.
But the reprieve only lasts for two years at a time, and it doesn't provide a path to citizenship or even a green card. While Republican House members work on a Dream Act-style bill to legalize undocumented young people, tentatively named the KIDS Act, Democrats are pushing for a path to citizenship for the wider undocumented population.
Dreamers are doing the same, including by calling for a broader deferred action policy that would halt the deportation of older undocumented immigrants as well. Some said on the anniversary of the program that they appreciate the help for themselves, but they want the same for their parents.
"If the president granted me DACA then why can't he do the same for the rest of my family? What makes us different?" Dreamer Brisa Cruz said in a statement marking the anniversary of the program.
"I benefited from DACA at the moment when my family and I were detained by [Immigration and Customs Enforcement], I'm 16 years old and live with the fear of one of these days coming home to an empty house because ICE came again and took my parents," said Jose Urias, another Dreamer. "I believe my parents should have the same relief as I do while Congress debates immigration reform."
BEFORE YOU GO
PHOTO GALLERY
11 Ways Immigration Reform Helps The Economy