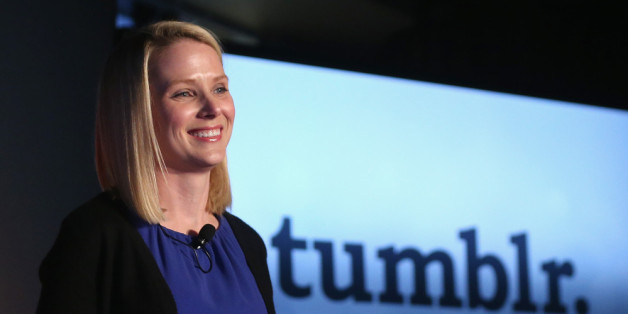 Between announcing a pregnancy soon after getting the job and banning Yahoo employees from working from home, Marissa Mayer's first months as CEO of Yahoo were hardly without controversy. And yet, despite public skepticism, Mayer has undoubtedly advanced the company, acquiring Tumblr, introducing a new mobile weather app, re-launching Flickr and updating Yahoo Mail -- to largely positive reviews.
She accomplished all of this as a woman in a male-dominated field and as one of the few women in charge of a multi-billion-dollar company, but Mayer continues to avoid discussing any relationship between gender and leadership.
When asked about her career trajectory in an August 16th interview with Vogue's Jacob Weisberg, Mayer presented her success as somewhat accidental, saying:
I didn't set out to be at the top of technology companies. I'm just geeky and shy and I like to code...It's not like I had a grand plan where I weighed all the pros and cons of what I wanted to do—it just sort of happened.
That quote is consistent with the way Mayer has previously avoided addressing tech's lack of female leaders and avoided discussing her own experiences in that context. When interviewed for AOL's "Makers" series in February of 2012, she stated that although she believes in equal rights and thinks women may even be more adept than men in some regards, she refuses to identify as a feminist because she believes such women have a "militant drive and sort of the chip on the shoulder" and that "there's more good that comes out of positive energy around that than negative energy."
"Of course, in the male-dominated culture of Silicon Valley, gender blindness, willed, or otherwise, is one way of fitting," Weisberg wrote. When she use to be asked about being one of the only women at Google in its early days, he wrote, she would "answer truthfully: she hadn't noticed."
While it's fantastic to see a female CEO lauded for her accomplishments, it would be more rewarding to see her acknowledge that her success is the exception rather than the rule and to encourage women to follow in her footsteps.
BEFORE YOU GO
PHOTO GALLERY
The Most Buzzed About Female-Led Tech Startups Of 2013