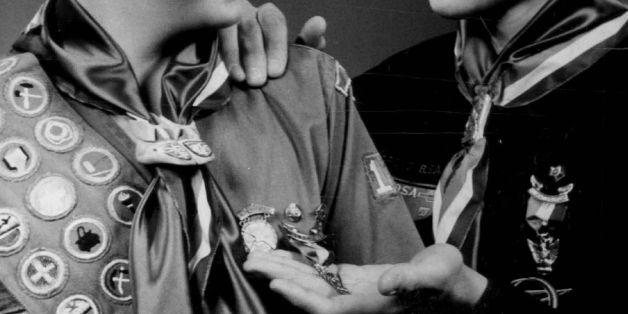 A pair of Christian radio show hosts known for their controversial, anti-gay commentary have suggested that the recent repeal of the Boy Scouts of America's ban on gay members will lead to merit badges being awarded for cannibalism and sodomy.
"Manhood is a problem and the Boy Scouts are going to lead the decline now," host Kevin Swanson told listeners of Generations Radio on Friday. "Since the final decision came down that the Boy Scouts as a national organization are going to invite homosexuals into the troops."
Story continues below
This "breakdown of manhood" brought on by the inclusion of gay scouts will lead to several new Boy Scout awards, according to Swanson's co-host Dave Buehner, including "the sodomy merit badge."
"And after that I guess it's incest. After that I guess it's the cannibal merit badge," Swanson cut in, adding that the Boy Scouts "are trying to add abomination on abomination, effectively going into God's word, trying to find the thing that God really, really, really hates the most. The sins listed in the Bible, going through the lists of sins in the Bible, finding the very worst ones and creating merit badges for them is where the Boy Scouts are headed."
Since its creation in Colorado in 2003, Generations Radio has made headlines for its anti-gay rhetoric and conservative Christian commentary.
In January, Swanson raised some eyebrows after predicting that in the near future, children will be sent to live with pedophiles and members of the gay community will "burn Christians at the stake." A month later, Swanson and Buehner made their opinions on gay Boy Scouts very clear by telling listeners that allowing gay Scout leaders would be like allowing serial killers to teach preschool.
In 2012, Swanson criticized the Jim Henson Company for parting ways with Chick-fil-A over the fast food company's anti-gay stance. According to Swanson, the Jim Henson Company was "taking the sodomy route" by deciding not to do business with Chick-fil-A.
BEFORE YOU GO
PHOTO GALLERY
Dumbest Anti-Queer Statements