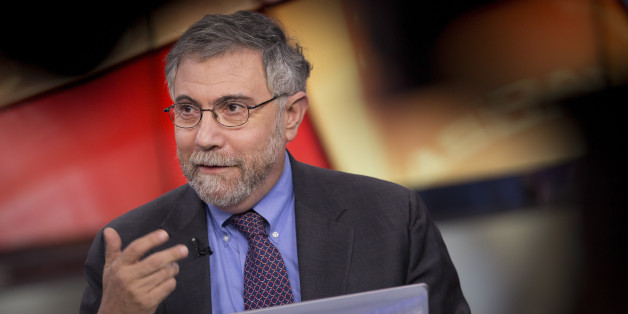 One of America's most popular economists is defending himself after a professor accused him of stealing his ideas.
New York Times columnist Paul Krugman, who was awarded the Nobel economics prize in 2008, was accused of stealing ideas by Roger Farmer, a professor of economics at UCLA. "Perhaps you have read some of my recent work," Farmer wrote in an open letter to Krugman on Aug. 13. "Perhaps not. I infer that you may be aware of it since your columns often select themes that closely mirror my writings, usually a day or two after they are circulated. Perhaps that is due to the coincidence fairy."
Farmer claimed he previously kept private his "intellectual disagreements" with Krugman, but wrote that he was moved to go public after Krugman appeared to use ideas from one of Farmer's recent papers and failed to provide proper citation. Farmer's August 2013 article, published by the National Bureau of Economic Research, criticized a theory relating to labor market structures and unemployment rates.
Five days later, Krugman responded to Farmer in a blog post. "The truth," according to Krugman, was "sadder" than any plagiarism accusation.
"I haven't read any of his [Farmer's] stuff," wrote Krugman. "I've tried, a couple of times, but found it very hard to penetrate and gave up -- and several other economists I've talked to had the same reaction."
Writing about economics is very difficult, Krugman continued, and most people don't have time to slog through a theory unless they're given "a motivating example, a simple and effective summary, something to indicate that the effort will be worthwhile."
The response was lauded by Business Insider's Joe Weisenthal, who called the columnist's advice on writing "a great lesson for everyone to take to heart."
Neither Krugman nor Farmer responded to The Huffington Post's requests for comment.
This is not the first time Krugman has found himself embroiled in an online feud. The Princeton professor was recently lambasted by a pair of Harvard academics for "spectacularly uncivil" behavior. Krugman responded with a blog post that stood by his criticisms of Carmen Reinhart and Kenneth Rogoff and maintained that the pair were guilty of "analytical sin," specifically the "downplaying of causality issues."
Last September, Krugman also got into a public spat with Kentucky Senator Rand Paul (R) after a disagreement over federal government payroll size. Krugman wrote a highly critical blog post titled "The Zombie That Ate Rand Paul's Brain," and Paul told Business Insider that Krugman had completely misunderstood his original point.
ALSO ON HUFFPOST:
PHOTO GALLERY
BEFORE YOU GO
Journalism Scandals
PHOTO GALLERY
Journalism Scandals