If you've ever bought, well, anything really, at your local CVS Pharmacy, you've likely walked out of the store with a receipt so long it gave new meaning to the term "paper trail."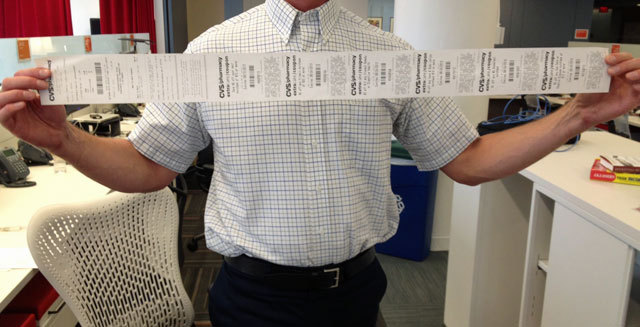 AOL employee buys pack of gum at CVS, gets 38-inch long receipt. (Matt Brownell/AOL)
Though consumers have been complaining about absurdly lengthy CVS receipts for years, it appears that the long receipt trend has only exacerbated as time as passed, with some CVS receipts -- full of ExtraCare loyalty points, coupons, ads and other tidbits of information -- now measuring the length of an adult human.
The receipts have reached such baffling lengths, in fact, that shoppers have begun flocking to the social media sphere to poke fun at the country's largest pharmacy chain -- recently spawning a hilarious Twitter meme that Fast Company described this week as being "on the verge of explosion."
Indeed, a quick search of "CVS receipt" on Twitter returns tweet after tweet of jaw-dropping photos and tongue-in-cheek mockery. A "CVS Receipt" parody Twitter account has even been started to tap into this growing trend.
So @smashleychavez buys one thing of honey, comes out with a receipt almost the size of her. CLASSIC CVS pic.twitter.com/dkh5wvHWM4

— Ricardo Marquez (@iBlogBetter) August 10, 2013
i bout three things at cvs and the guy gave me a really long receipt...i think he likes me pic.twitter.com/tC4YeoOEOM

— SARA ;D (@AliceLitkelovee) August 20, 2013
So excited to finally be down to my goal waist of 1/2 a CVS receipt!! pic.twitter.com/7jeS7IxQf8

— Jessica Joy (@J2thaJOY) August 17, 2013
Bough gum at CVS. Here's my receipt. Saving the world one tree at a time! pic.twitter.com/ELDwsyPM5Q

— Theory of a Deadman (@TOADM) August 14, 2013
Dear CVS, after purchasing 2 things why is receipt 4'6''? pic.twitter.com/qXom0sy2nl

— Alex Curry (@Alex_Curry) August 16, 2013
Dear CVS... I didn't even want a receipt... #evironmentdouches pic.twitter.com/tpIZ5qOsPE

— Max Collins (@AtomicLizard) August 18, 2013
My cvs receipt is only 1ft shorter than me. pic.twitter.com/7QMRWKYyKU

— Dana Hanson (@silentphilm) August 18, 2013
Shoppers around the country, citing inconvenience and environmental concerns, were already getting frustrated with the ridiculously lengthy receipts that they were getting at retailers like CVS, Duane Reade and Kmart in 2009, according to a Wall Street Journal report at the time.
So why is it that, four years on, we have longer receipts than ever before?
In explaining why the company wasn't scrapping their super long receipts for a more convenient way of disseminating coupons and rewards, a CVS spokesperson told the Los Angeles Times in 2011 that the company's receipts are an exciting part of a customer's shopping experience.
"When you give rewards, you want people to feel excited," the rep told the newspaper. "You want them to know that they've earned the reward."
This week, CVS defended their super-long receipts again, telling DailyFinance.com that the redemption of ExtraCare rewards is at an all-time high.
The company has also said on its Facebook page that despite concerns from some customers, their receipts are actually not as bad for the environment as they may seem.
"Printing coupons on receipts helps us cut back on the amount of paper needed to print coupons on paper or send direct mail offers," the company wrote earlier this month. "Also, our Send to Card option allows many coupons & ExtraBucks Rewards to be sent to your ExtraCare card digitally."
Still, CVS acknowledges that shoppers may be getting tired of lugging several feet of receipts wherever they go.
"We truly appreciate all customer feedback and are currently working on additional ways to reduce the length of the receipt for customers that do not want to physically print their coupons in 2014," a rep told DailyFinance.
Do you like CVS' long receipts? Tell us below.
BEFORE YOU GO
PHOTO GALLERY
Outrageous Receipts (EXPLICIT LANGUAGE)