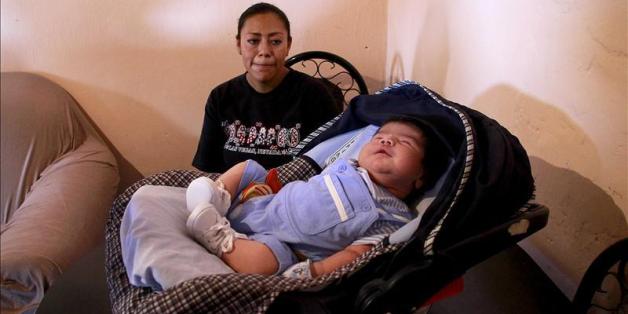 Ciudad Juarez, Mexico, Aug 21 (EFE).- A baby weighing 6.6 kilos (14.5 pounds) and measuring 62 centimeters (24.4 inches) long was born last week in this Mexican border metropolis.
Dilan Aram was born Aug. 14 at a hospital in Ciudad Juarez, according to municipal authorities, who along with his parents will seek to get the newborn included in the Guinness World Records.
The baby is the seventh child born into the low-income family, and so local authorities have gifted the parents with diapers, clothing, powdered milk and baby bottles, among other things. In addition, they offered the infant's unemployed father a job.
"We liked the help a lot. We are very thankful for it because, yes, we're a little in need," Cesar Hernandez, the boy's father, told Efe.
Dilan is using clothing for a 6-month-old child and medium-size diapers.
"The doctors told us that we'd have to be careful because (the baby) has to be fed every two hours so that his (blood) sugar doesn't go down," Hernandez said.
The father said that two of Dilan's brothers were also born with "a special size," with one of them weighing 5.2 kilos (11.4 pounds) and the other 5.1 kilos (11.2 pounds).
The family says that the baby's size comes from his father's side of the family, given that Hernandez stands about 1.80 meters (5 feet 11 inches). "This is from my genes. We're a robust family, large," he said.
Dilan is classified by doctors as a "giant" baby, although there have been cases of newborns that have been even larger.
Among those was a baby born in 2005 in the Brazilian city of Salvador who weighed 7.5 kilos (16.5 pounds).
BEFORE YOU GO
PHOTO GALLERY
Heaviest Babies