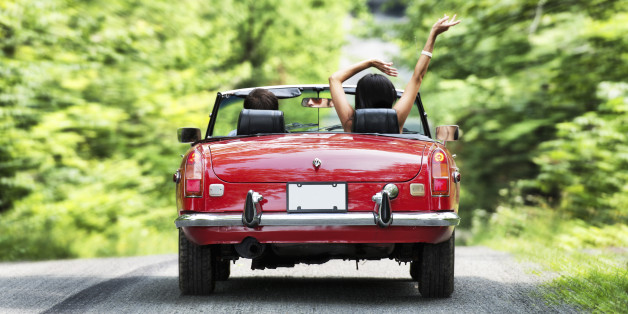 This article originally appeared on DateNight.Is
While summer isn't quite over, it's hot enough now that we wish it would be. The heat is draining and tempers are flaring, making this the perfect time to plan one last escape before the summer vacation mentality melts away and everyone expects you to actually get work done on Fridays. So here are five easy-to-plan getaways to fuel your wanderlust...
Plan a Road Trip
Everyone gets caught up in the destination of a vacation. "Oh, we're going to ________." It sounds impressive. It sounds like you've planned. But when was the last time you travelled with the sole purpose being to enjoy the journey? Load a good driving mix on your iWhatever, fill a cooler, and grab your camera. Then hop in the car (or grab a Zipcar) and just...drive. Pick a direction you've never travelled and GO.
The key to a good road trip is keeping your plans to a minimum and your willingness for an adventure to a maximum. Plan to pull over whenever it strikes your fancy – because you saw a cute cafe, or a seedy bar that you swear they filmed...something at. Or because you want to grab a photo of the view. All those things that you would never bother to do if you were heading to a destination because you'd rather not waste the time. Do them now.
In fact, we're planning our own road trip up the California coast in August, and we could use some help deciding where we should stop.
Head to a New City
Chances are you live within a day's travel to some city that you just haven't quite made it to yet. There's nothing particularly special about this city (or town). Your friends haven't been raving about it for years. You have no idea what's there. And that is the perfect reason to go there.
Head to a new place and just see what it has to offer. Every town has its own personality and culture that's fun to discover. Keep an eye out for summer festivals as well; they're a great way to get a feel for a small town. Need some help getting started? Here are Smithsonian Magazine's 2012 and 2013 lists of the 20 best small towns in America for a visit. Or, check out recommendations from our own recent adventure in Richmond, Va.
Find a Nearby Farm to Visit
With the growing interest in the locavore movement, many farms have opened their doors for picking more than just pumpkins and apples in the fall. You can now head out into the field, basket in hand, to harvest your own...just about anything. This is an outing that's equally romantic and/or family-friendly depending on what you're looking for. And you'll walk away with a bounty that's worthy of some good recipe hunting when you're done. (Hint: cooking classes also make for a great date night!)
There are a few sites dedicated to helping you find a farm to visit:
GrowNYC.org (for the NY'ers out there)
Visit a Winery
Want to visit a "farm" but not enthralled by the idea of wandering around a hot field picking fruits and vegetables that you could otherwise find at the grocery store? Fear not! There's a type of farm visit just for you, and it's called...a winery.
Believe it or not, there's a winery to be found in every single state in the U.S.. Most of them will gladly schedule a tasting or tour of some sort to whet your appetite. (Just be careful with your transportation plans on this getaway, please!)
Want to find an option near you? Here's few directories to get you started:
Summer Camp, Grown-Up Style
Do you miss the days where summer meant weeks on end in creaky cabin bunk beds somewhere in the woods? Well guess what? You can do it all over again. Summer Camp for Adults is gaining popularity every year amongst the crowd who wants to relive their glory days of roasting the perfect marshmallow, wearing Tevas all day every day, and singing campfire tunes until sunrise. In fact, according to the WSJ, it's estimated that a million adults went to camp last summer alone.
Want to find the perfect Summer Camp for you? Check out GrownUpCamps.com and start sifting through everything from Wine Camp to Theatre Camp to Cowboy Camp (just like the one in City Slickers!). Oh, and remember "that one time at Band Camp..."
More Date Night ideas from Date Night Is...
Date Night Is... Best When it's Indulgent & Impractical
The Date Night Is... Guide to Being Stuck in the Airport Together
Date Night Is... A Chance to Spend a Night Under the Stars
Keep in touch! Check out HuffPost Weddings on Facebook, Twitter and Pinterest.
BEFORE YOU GO
PHOTO GALLERY
10 Great Dates Ideas For Married Couples