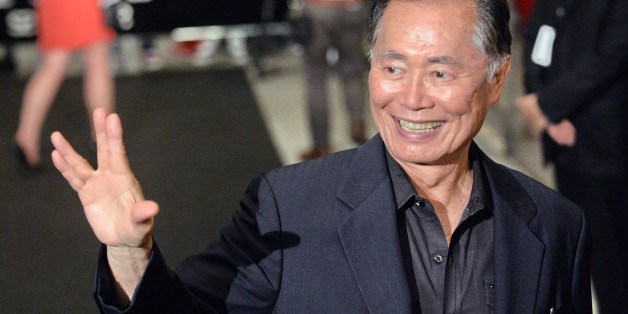 We've known for a while just what an online superstar actor and activist George Takei is. At once hilarious and thought-provoking, there's so much to love about the "Star Trek" legend's online persona.
Takei this week gave us yet another reason to adore his web-savvy brilliance when he posted on Amazon a wonderfully silly review for an Air Swimmer Remote Control Inflatable Flying Shark.

The horror: Air Swimmer Remote Control Inflatable Flying Shark (Credit: Amazon.com)
Inspired by "Sharknado" fever, Takei says he decided to purchase the $39.99 inflatable animal to prank his partner, Brad:
Read how I punked Brad with my own mini "sharknado." See my write-up--click and scroll down, on the right. http://t.co/WeoN0pkB5W

— George Takei (@GeorgeTakei) August 21, 2013
Takei gave the fake shark five stars on Amazon and described his prank in his review.
Read it in full here:
Brad and I caught Sharknado on ScyFy and had a good laugh. Brad in particular kept going on about how preposterous the whole notion was of a freak hurricane in LA bringing a deluge of airborne sharks.

You can guess the prank I pulled next. I waited until we had planned one of our home camping adventures in our backyard (Note: the AIR SWIMMER flying shark requires a good amount of space to operate, and definitely don't try it in high winds). I was in my Eagle Scout outfit and had just blown a rousing "Taps" on the trumpet to bring an end to our day. Brad had just doused our small fire carefully and plished [sic] off his fourth s'more, and true to form had broken out his harmonica to begin a lonesome "Swing Low, Sweet Chariot."

I excused myself, claiming I needed to go "visit nature" before turning in. When I was just out of sight, I ducked behind our tool shed and grabbed the AIR SWIMMER remote controls. To add to the ruse, I used my Bluetooth enabled smartphone to play the theme from Jaws on the jambox I'd hidden inside the tent.

Da-dum.

The harmonica playing stopped. "George?" Brad called out, standing slowly up and wiping some sticky marshmellow from his chin.

Da-dum, Da-dum

It was a low, unmistakable rumbling, as if from the depth of the darkest ocean. Brad's flashlight was out, scanning the tree-tops. Preposterous indeed! At just the right moment, I maneuvered the Air Swimmer into the clearing.

"Da-da-dum!"

Brad's flashlight flew up, illuminating the terrible jaws of this Jaws. I'd painted the mouth and teeth with a bit of red and hung a stuffed sleeve and fake hand from it for added effect. He yelled and fell back into the tent, tangling himself amongst the cords and nylon. The AIR SWIMMER dove down, and he screamed again, then, to his credit, he managed to grab hold of a flare gun and fired. The flare struck and propelled my Jaws up and into the air, then burst its guts across much of lower Hollywood.

Thankfully, by the time the authorities arrived we had packed up the evidence and were sipping chamomile tea in our kitchen.

"Did you happen to see a flying shark in the vicinity?" the officer asked.

"You've been watching too much television," I replied, returning to my tea. Brad rolled his eyes and had another s'more.
Though hilarious, Mashable alleged that "the whole theatric event might sound a little too fishy to skeptics" and good-naturedly dubbed Takei a "troll" for his humorous review.
Wondering how this inflatable shark "flies"? Watch this viral video from 2011 about the Air Swimmers line of remote-controlled fish:
BEFORE YOU GO
PHOTO GALLERY
Inside One Of Amazon's Mind-Boggling Warehouses