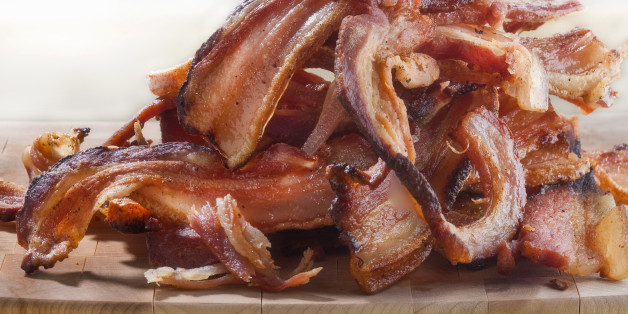 Chef David Burke is known as one of the country's most innovative chefs; he's been credited with inventing salmon pastrami, cheesecake lollipops and (implausibly) tuna tartare. His latest endeavor isn't quite as groundbreaking as all that -- but it's still pretty epic.
This week, the chef opened a new restaurant called Burke's Bacon Bar in Chicago's River North neighborhood, which is as close to an all-bacon restaurant as ever opened in the United States.
(Prior to Burke's Bacon Bacon, the only "plans" for an all-bacon restaurant came in the form of a news story about one such restaurant that was allegedly supposed to open up in Atlanta back in '09. But since this restaurant never actually opened, and the news story in question was published on April 1st, we're guessing that this idea remained laughably implausible until very recently. Canada, however, got the first all-bacon restaurant in North America, a sandwich place called Rashers, last year. In addition, several all-bacon food trucks have roamed the streets of various cities around America at various points, but that's not really the same thing.)
The restaurant's menu includes nine mini-sandwiches, eight of which contain bacon. The last one, Smoked Eggplant Meatball Parmesan is vegetarian by default... but you can add bacon for $1. It also serves a few sides, desserts and salads, about half of which contain bacon.
In other, not unrelated news, the price of bacon hit an all-time high, even adjusted for inflation, this past July. The average price of a pound of cured pork belly was more than $5 for the first time in history. Will the madness ever end?
Want to read more from HuffPost Taste? Follow us on Twitter, Facebook, Pinterest and Tumblr.
CORRECTION: This post has been amended to note the fact that the news story about "Bacon-alia," the all-bacon restaurant in Atlanta, was published on April Fool's Day, and so was only, in all likelihood, a clever prank. We're sorry to have missed the joke the first time around! It was funny!