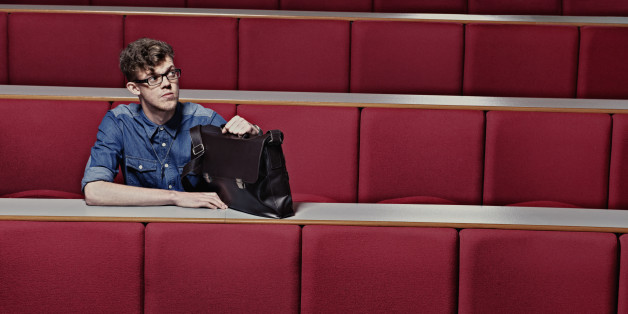 By Katie Szymanski
College is an exciting journey -- a time of self-discovery, relationship building, and decision-making. Pre-collegiettes, we hope you are ready! But when you finally arrive on campus, we just ask one thing: don't be that freshman. Ask any upperclassman, and nine times out of 10 they can point out the newbies -- the students walking to class in herds (and getting there 20 minutes early), wearing their Sunday best, sporting an oh-so fashionable lanyard, and giving their parents a play-by-play of their day over the phone. We don't expect you to look and act like a senior on your first day, but there are ways to avoid becoming the stereotypical freshie.
1. Toss the Lanyards
We hate to break it to you: lanyards aren't cute accessories. Nothing screams "freshman" more than wearing one around your neck wherever you go. Yes, getting your new school ID is super exciting. But trust us, it will be perfectly safe in your backpack, wallet, or pocket! If you want to keep your ID readily accessible, Vera Bradley's Zip ID case ($12 at verabradley.com) and Merona's Hard Case Wallet ($12.99 at target.com) are great options to try.
2. Upgrade to College Gear
Don't make the mistake of wearing your high school Class of 2013 shirt around campus (do you want everyone to know you're a freshman? The answer is no). Once you move on to college, the only socially acceptable time to wear your high school gear is while sleeping or exercising (it's a proven fact). Now that you're in the big leagues, it's time to start dressing like it! If you can't seem to let go of your old tees, don't worry. You can turn them into a fancy T-shirt quilt for your dorm.
Before classes start, you should pick up your university shirts, sweaters, hats, jewelry, and anything else your heart desires. But beware: only freshmen wear it all day, every day. It's okay to show school spirit, but do it in small doses! Instead of getting your entire wardrobe from the campus store, there are always ways to rep your school spirit in a unique way.
3. Use a Mobile Map
Trying to find your classes on the first day of school is the worst. But you know what's even worse? Looking like a lost freshman, hauling around a giant map of campus. If you need directions, start by using a map on your phone to avoid any judgmental stares from upperclassmen. You should check to see if your school has an app; many university apps include a campus map for your convenience! If you have time before the first day of classes, why not scope out the area? Walking to each of your class buildings will help make the route more familiar, and you can also estimate how long it will take to get around campus. Don't be that freshman running to class… just don't.
BEFORE YOU GO
PHOTO GALLERY
Best Advice For Teens, According To Redditors