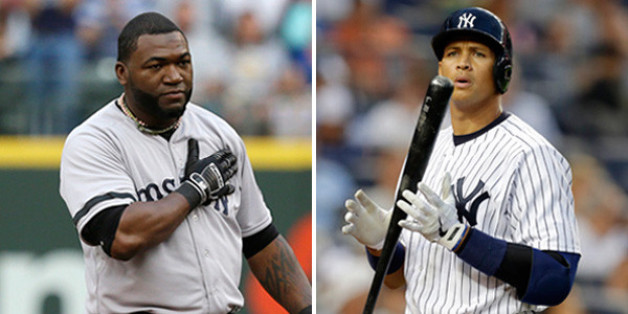 Not everyone in the Boston Red Sox dugout was pleased with pitcher Ryan Dempster hitting Yankees slugger Alex Rodriguez on Sunday.
Two-time World Series champion David Ortiz told Jorge L. Ortiz of USA TODAY Sports on Thursday that not only does he not think it "was the right thing to do," but the plunking may woken up a sleeping giant.
"It's not that I didn't think it was right because Alex and I are friends, because once you cross the white lines, everyone's on their own," Ortiz said. "But we've got Tampa right on our heels, and that pitch woke up a monster in the Yankees' team at that moment. You saw how the game ended up. CC (Sabathia) was throwing 91 (mph) and started throwing 96. Alex later hit one way out there. You're talking about a good team that you can't wake up."
A-Rod, who is appealing a 211-game suspension for performance-enhancing drugs, homered off Dempster in the sixth inning and helped spark a Yankees' comeback. New York won three straight against Toronto after the win on Sunday and now sit just 6.5 games back from the first-place Red Sox in the AL East. The Yanks are also just four games out of the second Wild Card spot.
Major League Baseball suspended Dempster for five games earlier this week for intentionally throwing at Rodriguez. The 36-year-old denied that he threw at A-Rod on purpose after the game.
Dempster's teammate, John Lackey, said before Boston's three-game series against New York that he doesn't think Rodriguez should be able to play during his appeal.
"I've got a problem with it. You bet I do," Lackey told The Boston Globe. "How is he still playing? He obviously did something and he's playing. I'm not sure that's right ... It's pretty evident he's been doing stuff for a lot of years I've been facing him."
Weighing in on the crimes, punishment and appeal of A-Rod has become a pastime in the AL East since he returned to the Yankees' lineup just hours after being suspended. Tampa Bay Rays third baseman Evan Longoria previously spoke out on the issue. Like Ortiz, his main concern seemed to be that Rodriguez's presence could potentially alter the race for the postseason.
"I don't think it's fair for the other teams, because I'm in the American League East. Whether he is 100 percent or not, whether his mind is where it needs to be or not, he can affect the game in a positive way. He can affect the game in a tremendous way, which is being in the lineup," Longoria told Jimmy Traina of SI.com. "In a pennant race, he's a guy that you don't want in the lineup. Looking at it from that perspective and that perspective only, I don't think it's fair that we can't have an arbitrator hear the case sooner."
BEFORE YOU GO
PHOTO GALLERY
2013 MLB Season Highlights