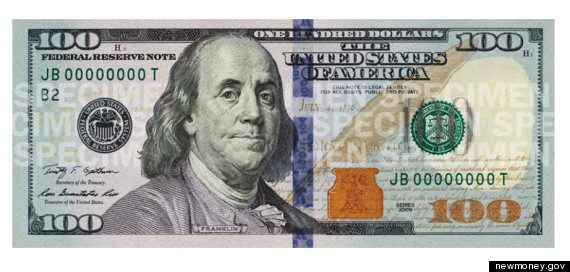 1. New Money, Old Money
Last year, in Wired, David Wolman profiled a German artist and printmaker named Hans-Jürgen Kuhl who crafted counterfeit hundred-dollar bills that German officials called "shockingly perfect." Now, however, counterfeiters the world over are going to have a harder time knocking off Benjamins (or so U.S. officials hope). After various setbacks and delays -- including a printing snafu Wolman uncovered last week in The New Yorker -- the new, redesigned C-note is expected to debut sometime this fall.
When it does, it will have an impressive array of newfangled security features, Chris Jones writes in Esquire: a watermark, of course, but also microprinting, color-shifting ink, and, most significantly, a plastic ribbon incorporated into the paper itself that reveals three-dimensional icons of 100s and Liberty Bells.
What's really striking about the new bill, however, is that it remains rooted in the old world. Jones takes us inside the Crane & Co. factory in Dalton, Mass., which has been supplying the paper used for U.S. currency since 1879. Apparently, the current skinny jeans trend is causing problems for the money-makers. "Much of Crane's time is now spent on a global search for waste cotton that wasn't used to make elastic pants," Jones writes.
He also introduces us to artisans at the Bureau of Engraving and Printing like Brian Thompson, who designed the new hundred, and William Fleishell, the engraver responsible for turning Thompson's art into a physical reality -- "perhaps the least famous American artists with the most widely viewed art," Jones calls them. Both men have worked at the Bureau since the 1980s, starting out as apprentices and working their way up. Nanotechnology may be responsible for the new hundred's most striking security features, but at its heart, it's still the work of old-school craftsmen.
And while Bitcoins and other digital currencies may be all the rage these days, Jones makes a compelling case that there is real value in tradition. Even the most advanced counterfeits, like the fabled North Korean "supernote," have trouble overcoming this inherent layer of security. "There remains one truth in the supernote's history that has never been forgotten," Jones writes. "It was first detected at the Central Bank of the Philippines by a teller, given pause only by the same nebulous flaw that betrays the majority of counterfeits. It just didn't feel right."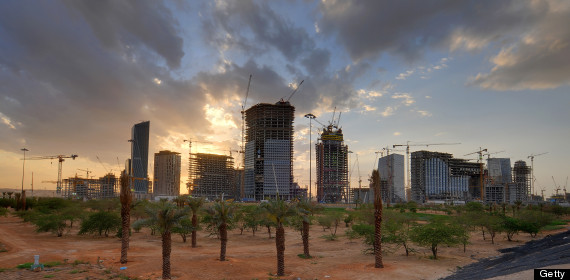 2. Can An Architect Remake Saudi Arabia?
Architecture projects, particularly of the large, public variety, often aim to be more than the sum of their square footage and instead reflect society's values and ideals (see, for example, One World Trade Center, née Freedom Tower). This is particularly true in Germany, where fierce debates and protests have broken out in recent years over what to preserve and what to build anew, and what that means for German identity and responsibility to history. Even a parking garage is a sensitive subject.
So what does it mean when a German architect goes to work building prestige projects in Saudi Arabia, a country ruled by Sharia law, where women are oppressed, gays can be executed and the religious police are waging a war on "witchcraft"?
Susanne Beyer, writing in Der Spiegel, travels to Riyadh with Eckhard Gerber, who designed the new National Library there (with separate entrances for men and women), along with two universities, a subway station and a "butterfly dome" that will serve as a public space for relaxation. Gerber entered a competition to design a courthouse in the Saudi capital, as well, but lost to another German architect, Albert Speer (the son of Hitler's architect of the same name).
Gerber is socially progressive, and he believes that these buildings can be agents for change. And he points out that no one would criticize a German architect for building in the U.S., which also has the death penalty. But Beyer -- who changed into a black abaya and veil in the airplane bathroom during the flight to Saudi Arabia -- is more circumspect. "The issue of whether a German architect should build a courthouse in Saudi Arabia, though, is much easier to resolve," she writes. "And the answer is no."
Have you read a good longform feature lately? Email me at sasha@huffingtonpost.com. 3. Kanye West's Plan For World Domination
It will come as no surprise to most, I'm sure, that Kanye West has an ego. There was that time -- never to be forgotten -- that he stole the mic from Taylor Swift at the VMAs. Or that time that he told the New York Times' Jon Caramanica that he was the next Steve Jobs, only bigger. "I am undoubtedly, you know, Steve of Internet, downtown, fashion, culture. Period. By a long jump," West said. Or that track, "I Am A God," on his new album. Subtle, that one.
As Clover Hope reports in Vibe, however, it's more than just bravado, or at least it could be. Last year, West announced that he was starting a design agency called DONDA, named after his late mother, that would bring creative-minded people together to change the world. "Essentially a future funnel for West's obsession with his legacy, DONDA is poised to be the ultimate vanity project," Hope writes. Yet, uncharacteristically for West, DONDA has flown mostly under the radar. There is no official website, no brick-and-mortar address, no list of members, employees or projects. The first rule of DONDA seems to be that you don't talk about DONDA.
Despite these obstacles, Hope pieces together, as best anyone can, what DONDA is and what it's up to. And while there is considerable doubt about whether West can make good on his claim to be the next Steve Jobs, he apparently has Apple co-founder Steve Wozniak in his corner. "West can certainly transform DONDA into a lucrative movement," Hope writes. "He's defied odds before."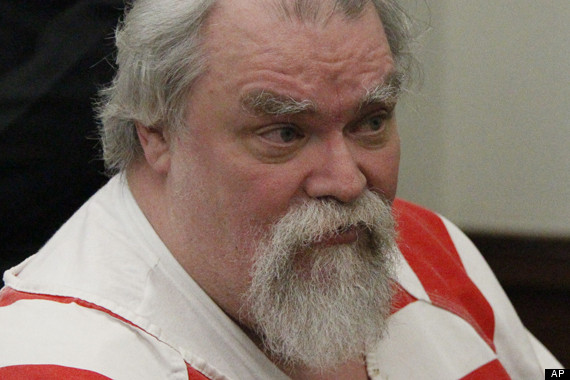 4. The Craigslist Killer
In The Atlantic, Hanna Rosin recounts the harrowing story of Richard "Jack" Beasley, a serial killer in Ohio who lured his victims via a job ad on Craigslist. "Simply watch over a 688 acre patch of hilly farmland and feed a few cows, you get 300 a week and a nice 2 bedroom trailer," Beasley wrote. "The place is secluded and beautiful, it will be a real get away for the right person, job of a lifetime."
The ad was designed to appeal to just the sort of person Beasley was looking for. "Jack painstakingly designed the ad to conjure a very particular male fantasy: the cowboy or rancher, out in the open country, herding cattle, mending fences, hunting game -- living a dream that could transform a post-recession drifter into a timeless American icon," Rosin writes.
Rosin, the author of the book "The End of Men," writes that she was initially drawn to the story because the victims seemed to highlight how the faltering economy has pushed white, middle-class men into precarious positions in society. But what she found, she says, is something very different. It's a great true-crime story and a riveting read. 5. After The Gun Goes Off
This week, Brian Beutler wrote a powerful essay in Salon about the night he was shot walking home late at night in Washington, D.C., and how the experience shaped his views on racial profiling and controversial stop-and-frisk police tactics.
"The moment I woke up in the hospital I promised myself I wouldn't let what happened change the way I approached life," Brian writes. "At a fundamental level I knew I'd just been profoundly unlucky. Even in a high crime city like D.C. most people going about their business on any given day or year or decade don't get shot."
"I'm the one in a thousand" that a stop-and-frisk policy might have protected, he said in an interview on MSNBC this week. "But that doesn't mean it's a reasonable price to ask a community to pay."
The story of what happened the night Brian, who is a friend, was shot is a compelling read. And while his first-hand account understandably cuts out when he's administered anesthesia and wheeled into surgery, I highly recommend Thomas Curwen's gripping report in the Los Angeles Times this week about a trauma surgeon who struggles to save the life of a young gunshot victim.
If Brian's story ultimately focuses on public policy, Curwen's account reinforces the devastating effects of gun violence itself.
Bonus: In the latest issue of Huffington, Dominique Mosbergen takes a look at what it means to be asexual in America. Download the issue for free in the App Store.