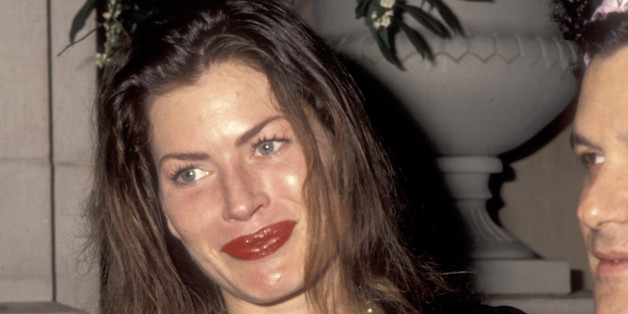 Models are often our health inspiration, motivating us to kick our lives into shape, get our eating habits in line and take better care of our bodies. (Have you seen Bar Refaeli's impeccable bridge pose?)
But are models always practicing what they're preaching? This week, we got a dose of reality from veteran model Carré Otis, who has been dishing out harsh truths about the world of modeling for years. In an article for Australia's Herald Sun entitled "The Truth About Modeling: What I Wish I'd Said To My Fans," Otis writes:
Whenever asked about my diet/workout, I would cite a healthy routine, the kind touted in women's magazines. "Jazzercise three times a week and light weights," I'd say. The heavily guarded truth was that I exercised a minimum of two hours a day, seven days a week. On days when I wasn't working, I did double duty, going to the gym twice in one day. I said I ate oatmeal for breakfast, chicken and veggies for lunch, and fish and salad for dinner, along with a healthy snack like yoghurt.

But in reality, my big diet staple was four to six cups of black coffee per day, avoiding even a splash of skim milk since I was terrified of extra calories. And to stave off hunger, I went through a few packs of cigarettes daily. Cigarettes with coffee gave me an energy boost. And all energy boosts were welcome because my body was perpetually fatigued from little to no sleep, over-exercised muscles, starvation and the relentless stream of criticisms inside my own head.
She adds, "My teeth gradually yellowed from all the coffee, nicotine and worn enamel caused by bile (from stomach acidity due to all the starvation and even vomiting). But thanks to the brightening whitening power of airbrushing, in every shot my fake smile revealed sparkling teeth. Without my on-set manicures and pedicures, you'd have seen that, just like my teeth, my nails were breaking and yellow."
Carré's confession, coming years after the fact, echoes the occasional horror stories we hear leak out from industry insiders -- a model retelling the tale of girls eating cotton balls to stay full or Victoria's Secret Angels admitting they survive on liquids for over a week before the big Victoria's Secret Fashion Show. But for the most part, these stories are overshadowed by happier tales of well-being filled with green juice, green tea and Pilates.
There are certainly models who maintain healthy lifestyle habits, eating and otherwise (not every runway walker is surviving on black coffee alone). But Otis' "better late than never" admissions are enough to give us pause the next time we glimpse fashion spreads in magazines, runways and ad campaigns...
Read the rest of Otis' unvarnished insights in "The Truth About Modeling: What I Wish I'd Said To My Fans" at HeraldSun.com.au.
More women who are honest when it comes to their bodies:
PHOTO GALLERY
Women Who Defy Conventional Body Types In Hollywood
Want more? Be sure to check out HuffPost Style on Twitter, Facebook, Tumblr, Pinterest and Instagram at @HuffPostStyle.