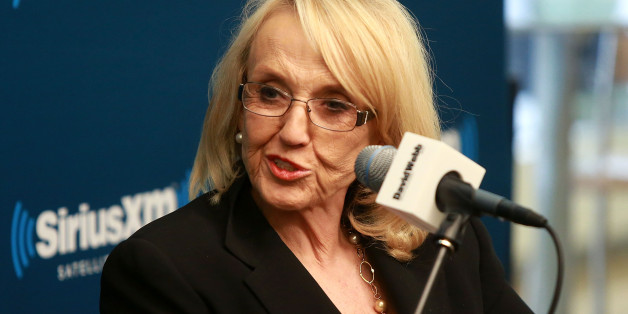 Arizona Gov. Jan Brewer (R) is not pleased about a fake press release suggesting that she wants gay conversion therapy in schools.
On Wednesday "citizen journalist" outlet National Report published a hoax article saying that Brewer had signed off on a program that would implement gay conversion therapy in all of the state's K-12 schools. The program, which the article said was being spearheaded by the real organization People Can Change, would be designed to help homosexual students become straight.
In the article, Brewer is quoted as saying:
"I think this will be an amazing opportunity for gay children to finally learn who they truly are for once in their lives. Can you imagine how much more productive these 'now-straight' children will be not always being bullied or wondering why god made them defective? What we have done here today is monumental. I can only hope and pray that other states follow suit."
The article has been viewed at least 70,000 times, reports AZCentral.com. In response, Brewer's spokesman Andrew Wilder has denounced the hoax.
"It's a completely phony, and vile report intended to deceive readers,'' Wilder said, according to AZCentral.com. "Its authors should be ashamed.''
People Can Change –- an organization with the real-life mission "to support and guide men who seek to transition away from unwanted homosexuality" -- also posted a response to the hoax on its website.
"This satire is not reflective of our organizational values, including compassion, understanding and respect for all who deal with or have ever dealt with homosexuality, however they may choose to address it in their lives," the statement read.
Brewer has a less-than-friendly record on the issue of gay rights. In 2009, she signed a law repealing domestic partner benefits for state workers.

BEFORE YOU GO
PHOTO GALLERY
LGBT Athletes