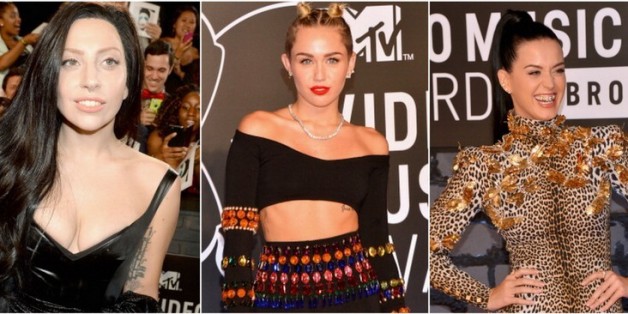 The 2013 Video Music Awards (or VMAs, as everyone calls them) bring MTV and a cadre of pop's biggest acts to Brooklyn's Barclays Center on Sunday.
This year marks the 30th anniversary for the VMAs, a milestone MTV celebrated with a redesign of the famed Moonman statuette courtesy of KAWS.
Pre-awards rumors included an *NSYNC reunion, but plenty of exciting pop moments were already set: Justin Timberlake, Miley Cyrus, Daft Punk, Kanye West, Drake, Katy Perry, Lady Gaga and Bruno Mars were among those confirmed to perform. Buzzy starlets like Taylor Swift and Selena Gomez were teased as announcers in the walk-up to the big night.
The party, hosted by One Direction, is MTV's celebration of music videos and had been heavily promoted by the network in the lead up to Sunday. The Beastie Boys' 1987 hit "No Sleep Till Brooklyn" served as something of a theme song for the event. The Barclays Center is perhaps equally famous as the home of Brooklyn Nets and the setting for Jay Z's inaugural run of concerts at the venue, which has since hosted the likes of Paul McCartney and Beyonce.
Below, check out photos from the big night and keep up with live updates. Additional information on winners and performances can be found all over HuffPost Entertainment.
08/25/2013 11:26 PM EDT
That's It For The VMAs
The 2013 MTV VMAs were something else. Thanks for joining!
08/25/2013 11:26 PM EDT
No, Boo!
YOU'RE GONNA HEAR ME SNORE!!! AM I RIGHT????

— bobby finger (@bobbyfinger) 4 years ago
08/25/2013 11:20 PM EDT
Here's Her Roar
Katy Perry performed "Roar" for the first time, and it was glorious.
08/25/2013 11:18 PM EDT
The Video Of The Year Winner Is ...
08/25/2013 11:15 PM EDT
Joseph Gordon-Levitt Announces The MTV VMA For Video Of The Year
With a silly voice.
08/25/2013 11:12 PM EDT
In Case You Blinked During The VMAs
Ladies and gentlemen, the reunited NSYNC. http://t.co/vsH4DT5Yb2

— Hunter Schwarz (@hunterschwarz) 4 years ago
08/25/2013 11:08 PM EDT
So True
The perfect time for a Bruno Mars performance is totally TWO HOURS into the #VMAs.

— Jesse Fox (@JesseDavidFox) 4 years ago
08/25/2013 11:07 PM EDT
lolz
it would be amazing if nsync reappeared right now by lowering down from the ceiling on marionette strings

— kalkutta (@djkalkutta) 4 years ago
08/25/2013 11:07 PM EDT
Because This Bruno Mars Performance Is Boring
Let's remember this:
Me during Justin Timberlake's performance http://t.co/0IKZ3MXGMy

— things in life (@ItsThingsInLife) 3 years ago
08/25/2013 11:00 PM EDT
Lena Dunham Checks In
VMAs: Stop all this "what's up Brooklyn!!!" What's up is I'm 10 blocks away in my nightgown trying to keep my dog from drinking his own piss

— Lena Dunham (@lenadunham) 4 years ago
PHOTO GALLERY
Video Music Awards 2013