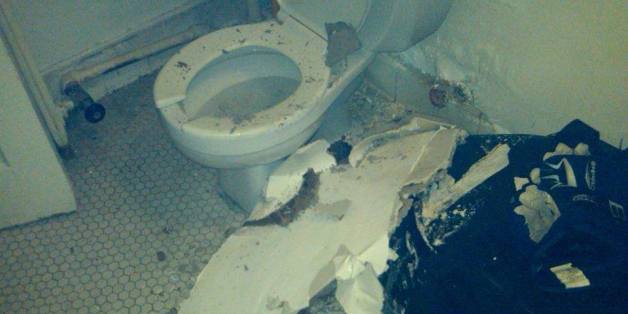 What is a university to do, when it discovers a stray handcuff locked to a pipe in a vacated dorm room?
If this photo is to be believed, one of the country's most expensive institutes of higher education decided it would be best to just paint over the restraint device, before a new tenant moved in:
The "GW Housing Horrors" Facebook page is a compendium of, as the name would suggest, objectionable conditions in the dorms of George Washington University, a D.C.-based school where tuition for the 2013-2014 academic year is $47,290, room and board another $10,850.
Ayla Nejad, one of the unhappy residents who started the Facebook page, told Mashable she'd spent $4,200 to live in a GW residence hall this summer, while doing an unpaid internship . The problems she encountered included a "visibly soiled toilet, a shower head that had become dislodged from the wall, a refrigerator completely covered in an orange rust-like substance and a desk chair that had a hole the size of a small frying pan burnt through the seat."
Nejad, now a graduate student in France, told the website that she and her "Horrors" co-founder tried asking the university for repairs before turning to public shaming -- a technique with an unlikely source.
"It sounds really lame, but I was kind of inspired by Confucianism," she said. "You lead by example and you inspire other people by example, and therefore when someone does something that's unethical behavior, you make an example of that person who has done something horrible."
About the horribles. Here are a few representative GW Housing Horrors posts, since the page was launched at the end of July:
The public shaming may have an effect. On Friday, not long before the start of the academic year, GW's housing office put out a "Bill of Rights" for on-campus residents, in addition to instituting other dorm repair improvements, according to GW's student newspaper.
"It was regrettable and we're looking to improve upon what we saw in that piece," Peter Konwerski, GW's dean of student affairs, told WJLA. "We certainly don't want that to be the residential experience that our residents have."
According to the Princeton Review, GW has the country's 10th best dorms -- which, if nothing else, suggests that things probably could be worse.
BEFORE YOU GO