We're all guilty of the occasional typo, just not one with such drastic consequences.
Israel Corporation, one of Israel's largest companies, saw its share price plunge 99.8 percent in a matter of minutes Sunday thanks to a trader typing error, according to the Globes, an Israeli business publication. Market sources believe the dramatic plunge, which stopped trading on the Tel Aviv Stock Exchange for a short time by activating its automatic fail safe mechanism, was caused by a trader who wanted to sell shares of another company, but accidentally entered Israel Corporation instead.
The error pushed Israel Corporation's share price down to $58, from $46,385 , according to CNBC. Large typing errors apparently aren't rare at the Tel Aviv Stock Exchange either -- they happen every few months, a spokesperson for the exchange told CNBC.
What does such a drop look like? Check out this chart from Google Finance, which shows the drop: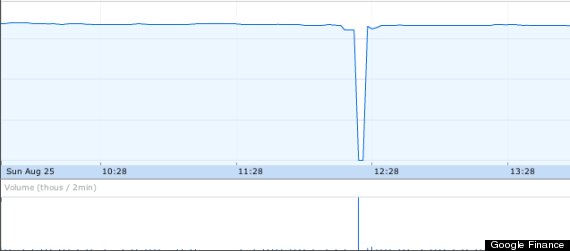 The fact that one error could trigger such a dramatic plunge illustrates the dangers of operating in today's computer-fueled, high-flying trading environment. The news comes less than both a week after a technical glitch shut down the Nasdaq stock exchange and Goldman Sachs reportedly made a series of erroneous trades that could wind up costing the bank $100 million.
Last year, the algorithms used by New Jersey trading firm Knight Capital for high-frequency trading spiraled out of control, resulting in erroneous trades and costing the firm $440 million. After the episode, representatives from the New York Stock Exchange, where Knight Capital was listed, and representatives from Nasdaq, the second biggest exchange, discussed installing failsafe mechanisms to prevent future errors, according to TradersMagazine.com.

BEFORE YOU GO
PHOTO GALLERY
The 10 Jobs With The Worst Co-Workers